Blair Harber's 100 Targa Car AHX12
Page3
23 June AHX 12 Progress Report.
I had promised Blair that AHX 12 would be ready to go back to him for final assembly of the body and paint by the end of June.
When I'm working on a project of this type I keep a running list of jobs to be completed. As something comes up that needs to be attended to it is added and as things are completed they are crossed off. Around the 12th of this month there were 56 items on the list, such things as "Modify flange for hand brake disc." and " Design, make and install left foot rest."
For the first time in my life I have actually got the list whittled down to nothing one week ahead of schedule. Some items went better than expected and others did not but the end result is that after 239.4 hours spent, not counting the many hours donated by Jim Keith and Dick Paterson, we have all the suspension installed and adjusted, a steering column constructed, the engine and gearbox in, all the brake and clutch lines in, the master cylinders mounted and bled, a fuel system installed, a remote oil filter installed, a cooling system with custom radiator and remote reservoir done and a complete electrical system designed and installed.
The steering column was quite a challenge.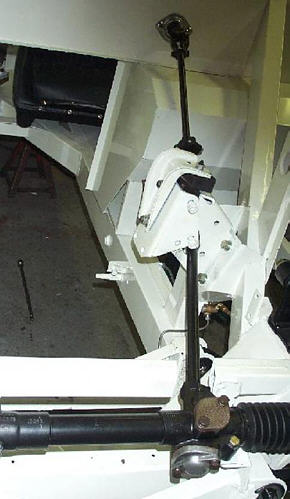 For those who are purveyors of such things, the rack as I mentioned last month, is from a '65 MGB. It has been shortened 2 inches to get the bump steer the way we wanted it. The first universal joint (just visible above the engine mount in the picture) is from a '78 MGB. There is then a short section of the '65 MGB steering column which uses a TR6 column clamp to attach to a Spitfire lower column. This is fitted into the upper universal joint which is from a Nissan 240 then this attaches to a section of Healey 6 cylinder column, (to get the adjustable spline for the steering wheel of course). At the very top is an MGB horn connector installed into the original Healey upper support which has been bored out a little to accept an MGB column nylon bearing. All very simple really.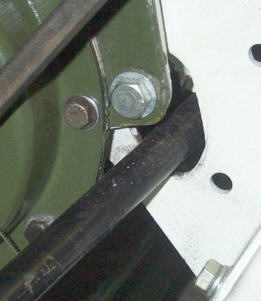 Things were a little tight where the column had to pass through the engine mount but a little work with a hack saw and file soon saw that problem solved.
The engine compartment looked a little bare when we first dropped the power unit into place.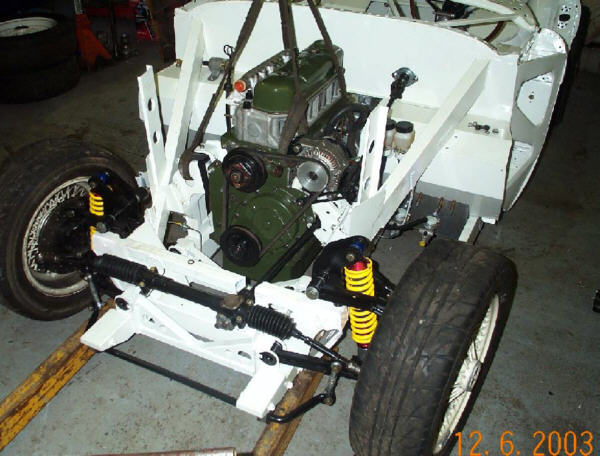 But 10 days later things are starting to look much more business like.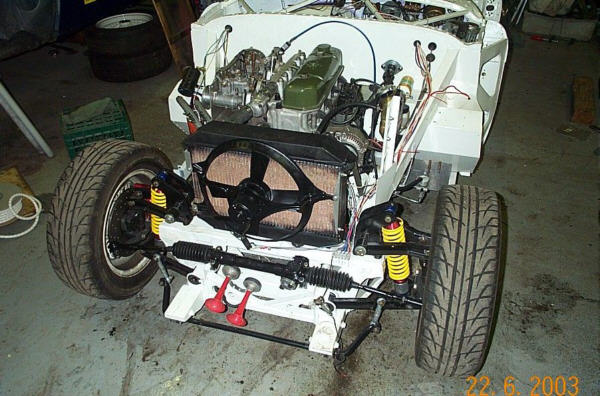 The engine is a 100S unit with 2 x 45DCOE carbs, Chevy 350 oversize valves, and a special cam designed by Dema Elgin of Elgin Cams. It has 306 degrees duration and 98 degrees of overlap. The lift at the valves measures 0.460". I have an aluminium flywheel on an Austin Diesel crankshaft with Ross Racing pistons and Carrillo custom rods. The capacity is 2728.7 c.c. We were a little disappointed that it only put out 165 horse on the dyno last year because, we suspect, the relatively mild cam was limiting the
revs to around 6500. We figure it should run to well over 8000 this year and put out over 200 horses.
I have tried to make the dash look as "period" as possible. One of the extra warning lights indicates low oil pressure and the other when the reserve fuel pump is selected.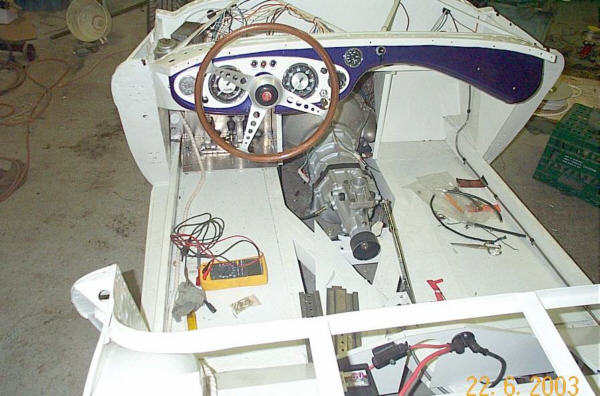 Check out that footrest, lightening holes even!!!
Having been eliminated from one rally many years ago when a fuel line was crushed by a rock we opted to run the main fuel line and harness down the inside of the inner sills. If you look closely you can see the MGA style turn signal switch and the BJ8 wiper motor with SELF PARK, such luxury. A few weeks back I made the steering wheel up out of an old woodrim that we had lying around the place, and a Healey adjustable hub. The horn button is from an Astrali wheel that I had many years ago on one of my first Healeys.
The large fuse holder that can just be seen beside the battery is on the main alternator to battery line. A very wise auto electrician once pointed out to me that if someone turns off the master switch while the engine is running the electrical system will be subjected to very high voltages. This spike will be enough to cook anything electronic.
The fuel cell is installed in an aluminium case and drained by 2 Facet pumps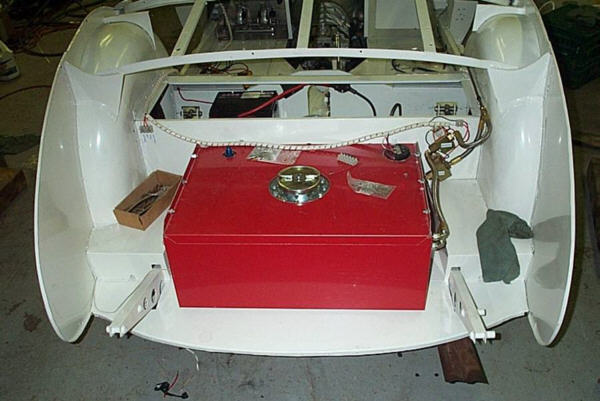 The pumps are powered through a TR6 oil pressure switch so that they will shut off if there is no oil pressure, like when you are upside down or you have just hit a Volvo P1800 or similar :)
We started the engine yesterday for the first time since the accident in Newfoundland. It started up first crank and has a certain "eager" sound, to say the least. Not a leak to be seen anywhere.
Stay tuned. Next month we should get the first test drive.

Michael Salter