Blair Harber's 100 Targa Car AHX12
Page 5
August 18th Progress Report.
I purchased this car from Rick Regan in British Columbia about five years ago, but it had been ravaged by racing, repairs and missing parts thru the years. It did not come with several items such as the original engine, transmission, or rear axle. The inner fenders were gone, and some of the chassis brackets had been cut off for lightening etc. It did have some original body panels, and a very well preserved chassis. The car had spent all of its life in the San Francisco area of California, and the frame was more solid than any of my three other BN1's. To restore this car properly with all of the correct components would be a very difficult challenge, and I know this all too well after completing chassis 138031 and AHX14. I feel that in restoring this car as a purpose built race car for the Targa Newfoundland, it would be a fitting justice for this significant pre-production car that came out of the Warwick factory fifty years ago, and I feel that Donald and Geoffrey would have really liked it too. When the company decided that Donald Healey was too important and valuable an individual to continue with the risks to himself by driving in competition, his last racing event was the Targa Florio.
As with AHX-14, the chassis number of this car is documented in Geoffrey Healey's book on "The Specials" showing BN1L 134171 as build number AHX 12. This original chassis number plate is shown before its removal from the chassis, and is now re-located to the firewall.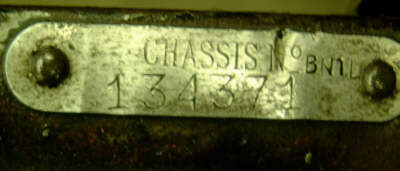 ---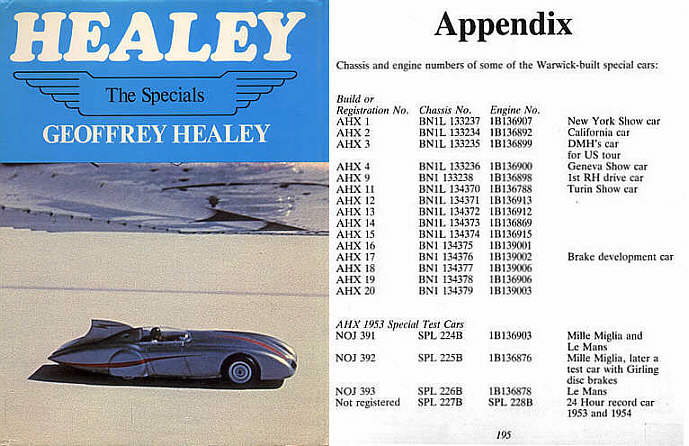 The method of attaching the hardtop was a bit of a challenge. A second rear shroud deck was used to form a stiffener for the lower profile of the hardtop and provide a more complete mounting system rather than relying on latches. Dzeus fasteners hold it firmly to the rear shroud.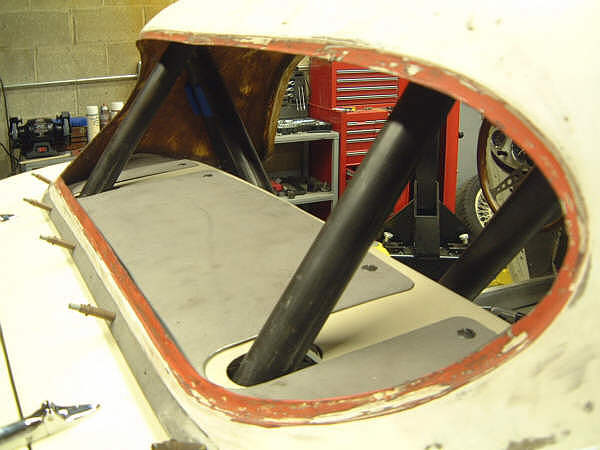 Four adjustable over-centre latches with locks were used to clamp the hardtop to the windshield posts and inside of the door pillars. The original battery cover was reproduced in two pieces of aluminum that closed in on the roll bar diagonal frame support.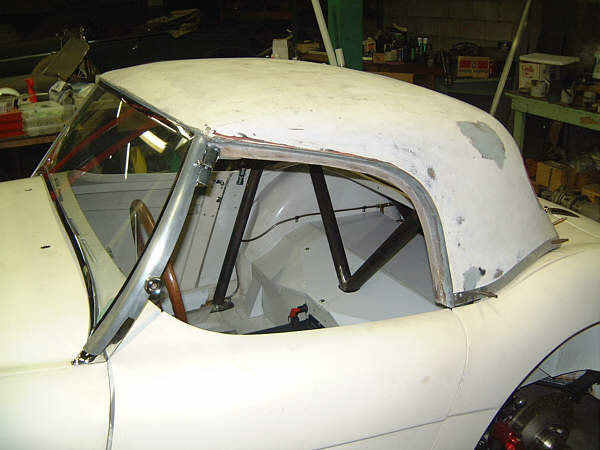 The exhaust system received a performance upgrade from the one used in Michael's car last year. We made a flange adapter for the two 2" diameters of the 100S exhaust manifold and made a quick exhaust transition into a 3" diameter and a nice smooth 90 degree sweep. The chassis outrigger was relieved and capped to provide better road clearance and the O2 sensor was mounted after the sweep. This will be used as an assist for engine tuning.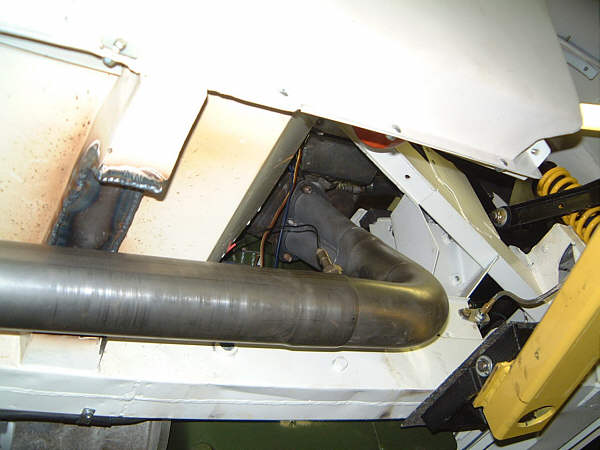 I especially liked the muffler we got from Bicknell Racing Products. Our company has been building complete bodies for their Dirt track racecars for over 10 years now with our computerized sheet metal fabricating services and have delivered well over 200 new ones this racing season alone. This is a DIRT sanctioned muffler with a 3" inlet and outlet. I guess they use such a simple interior so as to not confuse any exhaust gases as to where to go.
The aluminum sump guard was added along with a variety of custom made brackets and shields.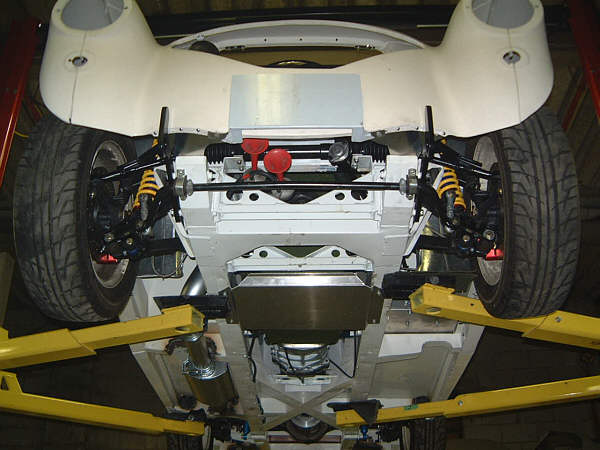 We have to give special thanks to Lou Cardilli (left) and Wayne Ford who helped conceive and create most of the custom fitting components for this car. They put in a lot of hours making these parts, fitting them, and keeping the project on schedule.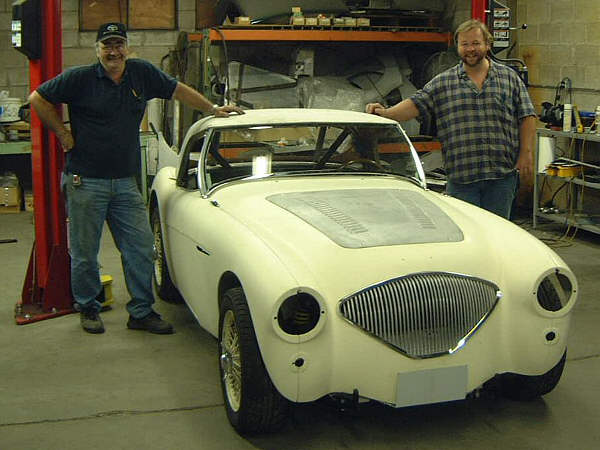 The car was then delivered to Rick Aiello for final fit-up, sanding, and painting. Fortunately, he had addressed all of the major fitting problems several months ago.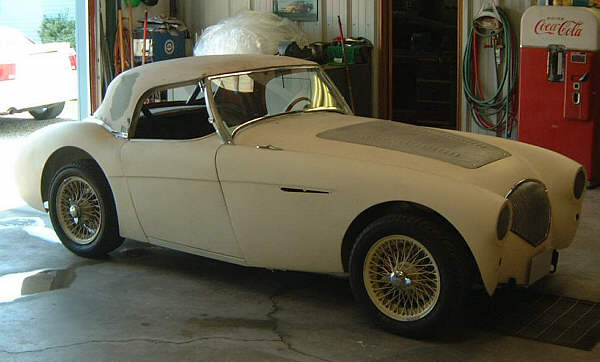 The lower panels were painted first in dark blue because they represented less masking area in comparison to the upper section.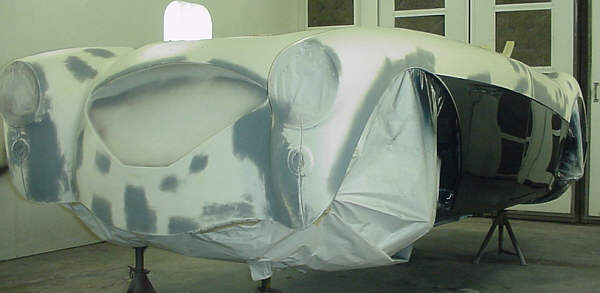 ---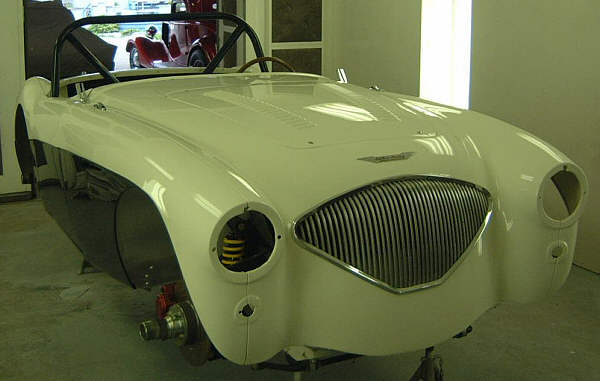 Rick gives us the first look at the finished product. In view of what we had started with, even he was surprised as to how well it turned out.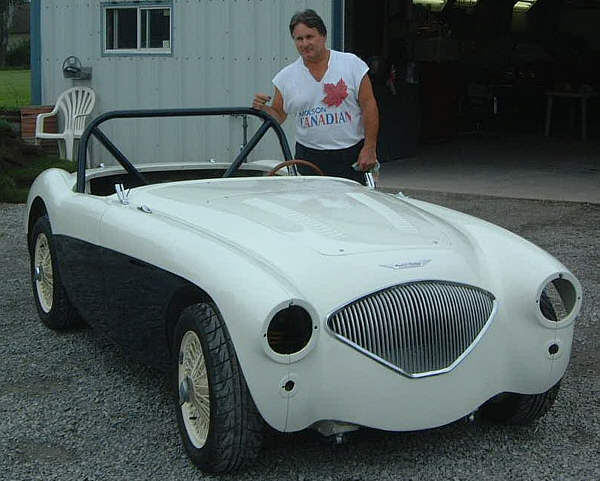 Over the next few days, Lou, Wayne, Rick, and myself solved the last of the fabrication and body challenges, and did the last touch-up. Trim and interior was finished up along with the seat belt mounting system.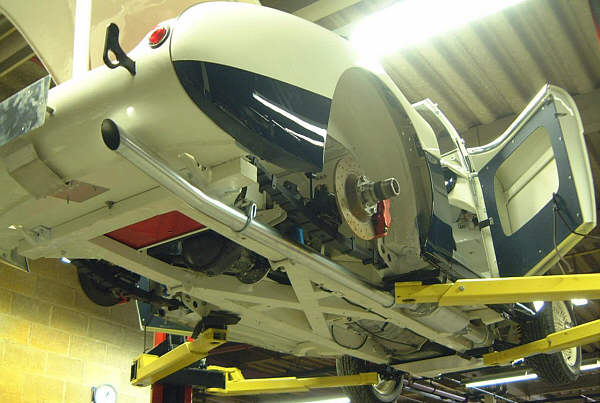 The car is up and running at this point. When the engine comes to life, you would swear it is a V8. It absolutely roars. We had to hurry to transport AHX-12 to Michael's facilities just north of Toronto, so Lou found it necessary to put down a strip of rubber as he drove the car thru our plant to where the trailer is located. (Good brakes too)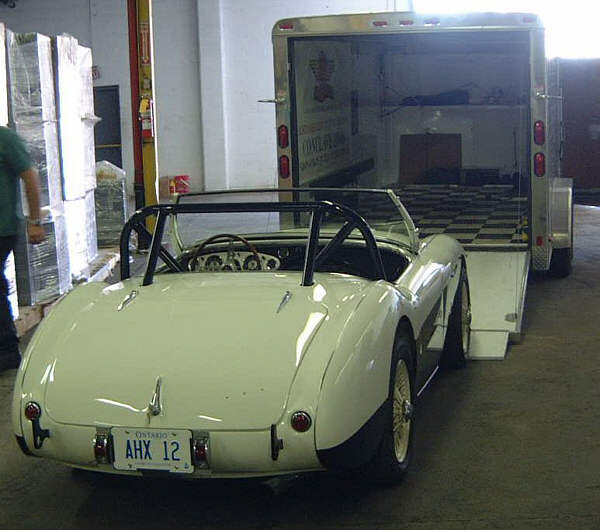 On the way, I dropped in at Bicknell Racing Products and visited Pete Bicknell, his partner Randy Williamson, and our parts technical advisor Larry Lampman. As you can see, Pete is a hands-on race car designer and builder who was hard at it even when I arrived there. They gave AHX-12 a complete look over. This car is a real departure from their Dirt Track Modified race cars they build, but they were really impressed. They put it on the electronic racing scales that show the independent weight on each of the four wheels. The car is set on a flat and level 2" thick steel plate and scales are placed under each tire. The results were as close to perfect balance as you could hope. Total weight with roll bar system, and five relatively heavy wheels and tires ended up at 1977 pounds. The front end weighs 5 lbs more than the rear, while the left side and right side weights are also within 5 lbs of each other.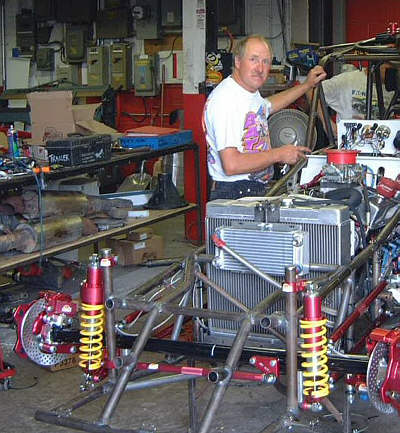 ---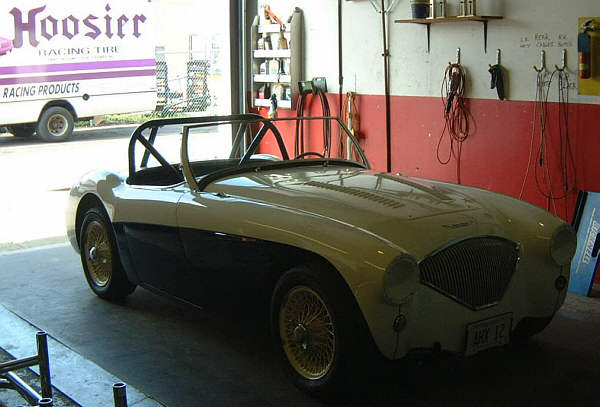 Just after 7:00pm I arrived at Precision Sportscar to hand the car back to Mike. It really looks like a car now. Mike has several tasks including wiring and chassis adjustments to do over the next 3 wks before the car is to be sent to Newfoundland. Mike has a lot of evaluation and tuning to do as well as getting the intercom and rally gauges installed. We feel that we are still very much on schedule as long as there aren't any big surprises, so our fingers are crossed.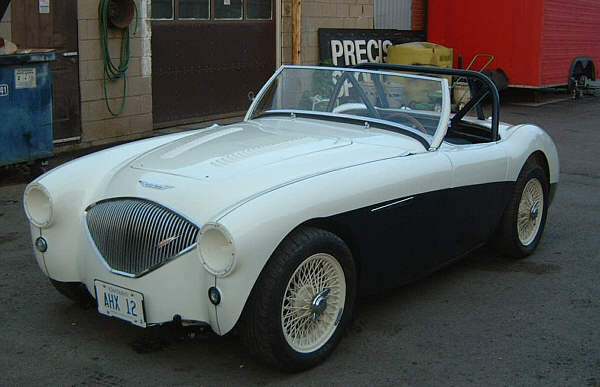 ---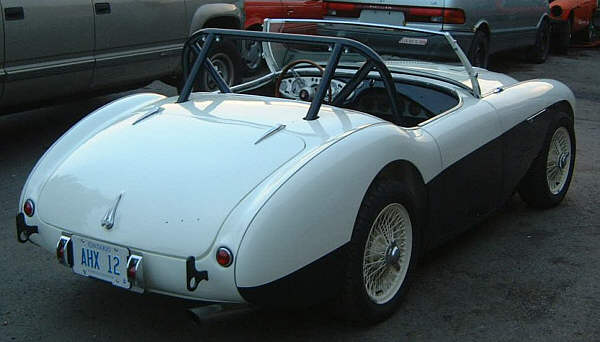 To be continued …………..