Blair Harberís 100 Targa Car AHX12
Page 1
Mike Salter
After the very unfortunate crash (Healey Marque Magazine March 2003) that put my 100S out of the 2002 Targa Newfoundland I had very mixed feelings about entering the same event in 2003 with the "S".
The dilemma was resolved when long time friend and customer Blair Harber called with a proposition. Having restored the first production 100 and the #14 pre-production cars, Blair had had his fill of "original" restoration work and wanted to build a racing Healey. Of course Blair being Blair this was not just any Healey, Blair wanted to prepare the #12 pre production Healey AHX12 which he had purchased some years back and he wanted us to run the car in The Targa Newfoundland 2003.
Of course I had to consider his offer for several nanoseconds but when he added that he wanted me to drive the event I was swayed.
Blair mentioned that AHX12 would need a little work to make it ready Ö he wasn't kidding!!!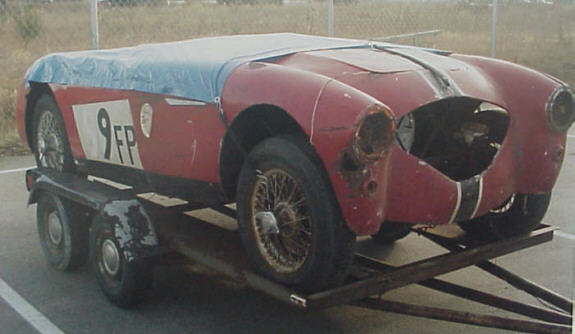 The car was short of a few rather critical parts, like the engine and gearbox but we racers are not easily deterred.
We have decided to incorporate many modern features in the car in order to make it competitive and relatively safe for this gruelling 5 day event, which includes some very rough road surfaces, while making efforts to ensure that the car looks very much like the real thing to the discerning observer.
The following modifications will be incorporated:
Centre laced 15" "Cobra" wheels with Yokohama 008 "R" tires
We are going to use my 100S "Sprint" engine which, running on 45DCOE Weber carbs should be putting out around 200 BHP at the flywheel.
Dual braking system with aluminium 4 pot racing calipers front and rear.
6 stud Austin A70 pickup truck (really) rear hubs (we want to retain the lighter spiral bevel differential unit)
Posi-traction differential (ex 1958 Studebaker Lark V8)
Toyota 5 speed gearbox.
Rack and pinion steering
Fully adjustable coil over front suspension
Brantz International 2 Pro Tripmeter
Race seats and 5 point race harnesses
Extra strong rollbar with side intrusion protection
Alternator
Reduction gear starter
Hardtop.
Fuel cell

---
1 May 3, 2003
Progress Report.
Blair and I have both been working hard on the AHX12 project.
Blair disassembled the car completely and then proceeded to remove every panel from the inner body that he could and produced duplicates in aluminium.
That didn't leave very much as you can see. And since this picture was taken he has removed MORE!!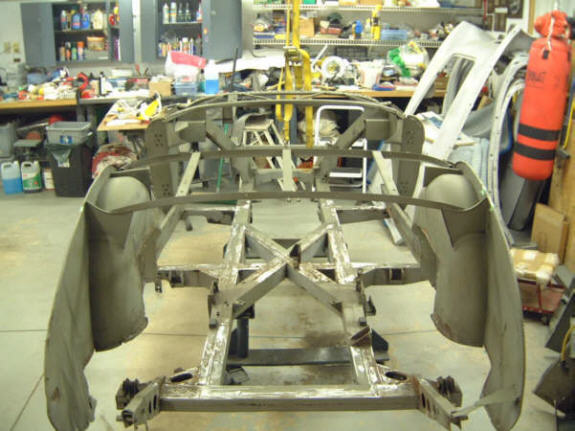 The body was then shipped out to have the outer panels massaged for fit. These include all alloy wings and doors including the right front fender from my 100S. I have decided to fit original BN1 style fenders on the "S" so this is a spare.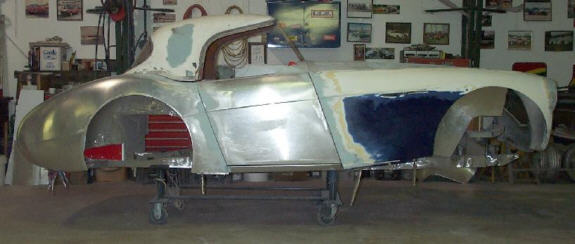 A huge amount of time has been spent making all the body parts fit together and rebuilding the hardtop.
After all this the frame was cleaned and primed then I started work on the suspension mods. For the rear we have installed radius arms, tube shocks, an anti roll bar and Panhard rod. All these parts are specials with aircraft rod ends in most locations. The Panhard rod in this picture is the original and has since been replaced with a longer rod end variety.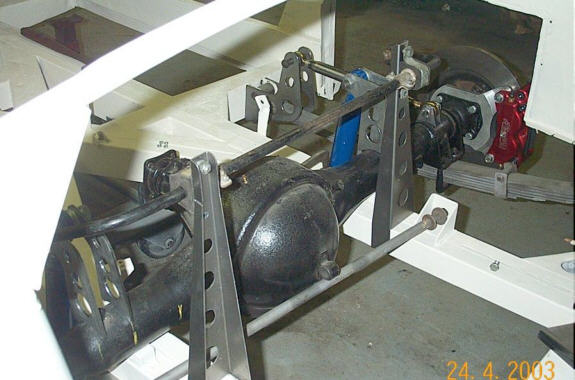 The rear brakes are Bicknell Racing 4 piston calipers using 3000 MkI rotors. The alloy brackets are machined from billet.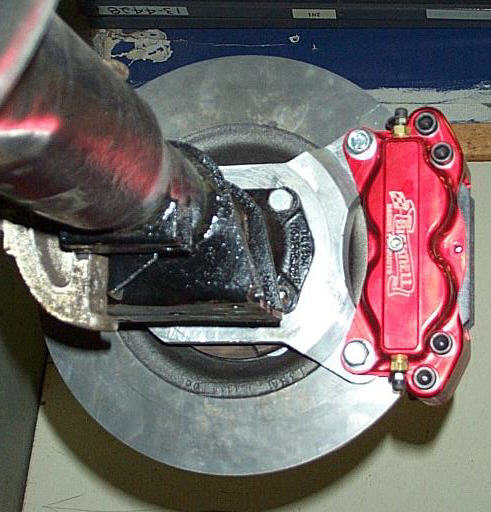 The 6 stud rear hubs are from a 1949 Austin A70 pick up truck and were provided by Diann and Lindsay Jones in New Zealand.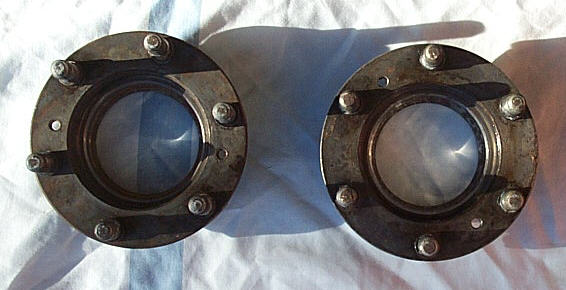 These of course required that special half shafts and rear splines were needed and these I recently collected from the machine shop. Just to add some complication the half shafts have to different lengths to accommodate the Studebaker Lark V8 limited slip diff unit that I have installed in the rear axle.
The front end is proving to be even more fun. I struggled with a suitable arrangement use the original Healey components with the coil over shocks that I had decided to use. After several attempts with various types of arrangements I decided to discard all that and use MGB parts. Amazingly the dimensions of the "B" front suspension are virtually identical to the Healey although most of the angles are very different.
This was the result of my first mockup.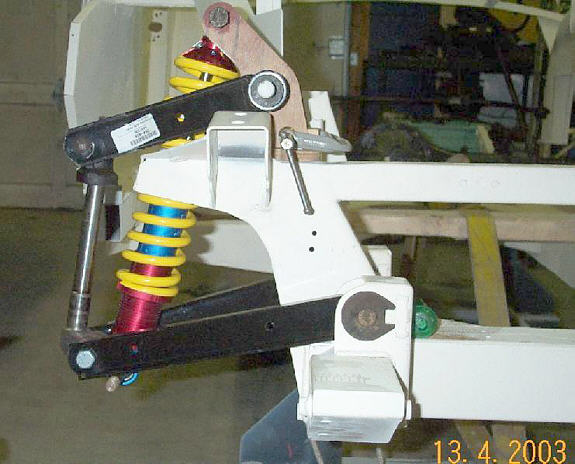 The plywood upper brackets will have to go but it all looks as though it will work very well.
For the front brakes we will be using larger Bicknell calipers, modified to fit onto the MGB spindle with MGB front discs.
---
Click to visit Mike Salter's Precision Sportscar