Austin Healey 100/4 BN1 "Ward Special"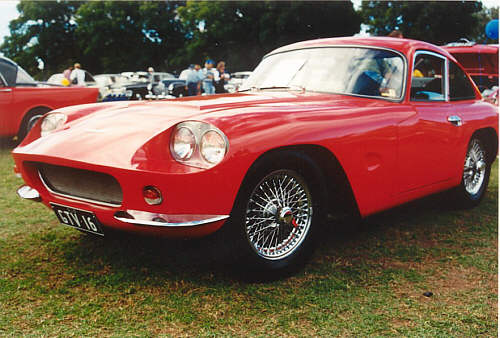 On 27 January 1955, Austin Healey 100 chassis no. BN1/22490 rolled off the Longbridge production line. The car was a black RHD export model destined for Sydney, Australia. The British Motor Industry Heritage Trust certificate shows that the car had a red interior and black hood, wire wheels and a laminated windscreen – and (surprise!) no heater. Its engine no. was the same as the chassis no. - H1B22490-M – and the body no. 7491. Some time in the next few months the car was shipped to Australia. A Vicroads (Victorian road transport authority) archive search shows that it was registered in Victoria in 1955, registration no. GLE 273. Iain McPherson, Registrar of the Victorian AHOC, says that this number is later than those of other cars with similar chassis nos. – perhaps the car sat in Sydney for a while before going to Victoria? Unfortunately Australian privacy laws won't allow Vicroads to disclose the first owner, the one important piece of information I don't have!
The following history has been pieced together from information provided by the Healey Factory, and from conversations with most of the previous owners – Clive Millis, Lindsay Hughes, Peter Marshell, John Best and Peter Rowland – and with Sid Ward's son Andrew. Iain McPherson knows the car well as in the early '70's the then owner worked close by to Iain's work. Iain has been able to fill in many details. Iain still owns a BN2 with an Ausca body, amongst other classic cars and historic racers. Clive Millis, the next owner, reports that the car was extensively damaged within months of delivery in a street racing accident at a place known as "Death Dip" on the Hume Highway at Craigieburn North of Melbourne. Clive says the damage was such that the car could have gone "end over end". He bought the wreck as an insurance write-off (although the Vicroads records don't show this event), straightened the chassis and fitted an Ausca fibreglass body, which was a direct copy of a Maserati A6GCS/53. The Ausca bodies were built by Paul England who worked for Repco. Only seven bodies were made, which were mostly fitted to Healeys, MGAs and Triumph TRs that were raced in the early '60's by the likes of Haig Hurst, Bruce McLaren and Jim Madden. Clive Millis was in a car repair business with Lindsay Hughes, and went on to race in two Australian Grands Prix – 1970 and 1971 – in an Elfin 600B Ford. Paul England still runs Paul England and staff at Essendon, Melbourne.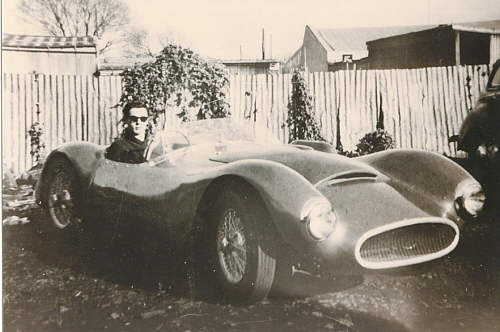 With the Ausca body (see photo) Clive registered the car GTV 116 in January 1959. He had found that the original bonnet wouldn't clear the Healey rocker cover, so he had Baker and Tait of Richmond build an aluminium bonnet. Coincidentally, the tradesman who hand-crafted the bonnet was Sid Ward, who later built the aluminium coupe body the car wears today. Presumably it was at this time that the steering column was lowered an inch or two at the firewall. The car was painted metallic silver grey, and had an aluminium grille surround built by Tishlers grilles. Clive is a Japanese truck dealer in Vermont Melbourne and still races various cars. There is some confusion as to the next owner.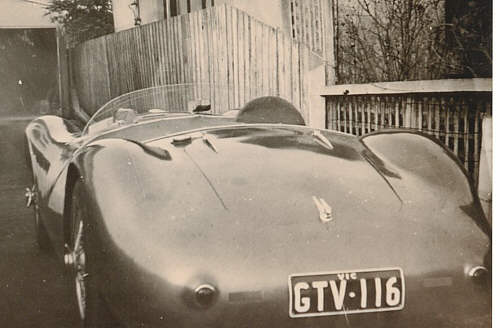 Information provided with the car says Clive sold the car in 1959 to Tony Pickett, a Melbourne car dealer, According to Iain McPherson, however, the next owner was a D Corben. Iain's records also show that at this time the car was painted red with a silver GT stripe. The same records show Bob Gray as the next owner, then Panda Motors from September 1963 until December 1964. Panda Motors was a business co-owned by Lindsay Hughes and his brother. Lindsay was later a partner with Neville Ham in Neville Lindsay Motors of Essendon who were one of Australia's first Toyota car dealers. Lindsay developed the car and raced it extensively with varying degrees of success at Sandown, Winton, Albury, Philip Island and Calder until 1965, after which it sat in storage for a number of years. Lindsay says the chassis wasn't modified much, although he did add drilled Alfin-style brake drums at the front (of "Meehanite" cast steel according to Lindsay – they are not aluminium like true Alfins) and a transverse telescopic steering damper a la Land Rover. The engine was bored out to nearly 3 litres and fitted with Dodge pistons (I'm yet to discover if it is still in this configuration). 13/4" SU's were fitted on a fabricated manifold. These are horizontal (to fit under the bonnet?) Lindsay is retired and lives in Bayview, Sidney. He currently owns a Ferrari 550 Maranello in yellow, in which he still does some track work.
In 1967, Lindsay commissioned renowned coachbuilder Sid Ward (who lived a couple of streets away from Iain McPherson) to remove the Ausca body and build a coupe body he had loosely sketched. Payment for this was by way of a used Hillman Station Wagon! Lindsay doesn't know what became of the Ausca body (although I'd love to find it!) Some of the modern Toyota components from the dealership were used, including the flush-mounted door handles (which now have no locks, although Lindsay is sure he fitted them!) and concealed dual headlights from the then-current Toyota Crown DeLuxe. These features, along with electric windows were considered extremely advanced in 1967 and would have been very expensive then. The windscreen and surround are from a Mk 3 Humber Vogue. Perspex covers over the headlights were planned, but never made. I learned some time after I bought the car from subsequent owner John Best that plaster of Paris moulds for these were made and were still with the car when he sold it to Peter Rowland. I now have them, and will have to learn how to mould Perspex! Lindsay doesn't recall having the small indentations put in the front wings, but thinks they might have been intended to carry Ferrari 250 GTO style vents.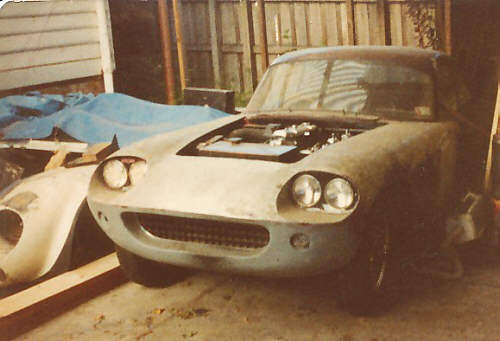 Sid Ward came to Australia from England in the early '50's, where he had worked as a coachbuilder since apprenticed. According to Lindsay Hughes, he learned is craft making mudguards for buses. In Melbourne, he worked for Baker and Tait, then Bibby Panels and then on his own account as Tudor Replicars and Sid Ward Vintage Coachbuilder. His main business was coachwork in aluminium and timber, though at one time he assisted the Bolwell brothers with moulds for their original Bolwell Healey and the first Mk 5 Bolwells. According to Andrew Ward, the Bolwell Nagari, then at the concept stage, was one source of inspiration for the Healey-based coupe. Sid passed away in the early '70's, however his Andrew has a large collection of photographs of his father's projects, showing his bodies on SS Jaguar, Lagonda, Bugatti, Riley, Alvis, MG, Hispano Suiza, Lancia, Amilcar, Bentley and many more. There is also a large collection of 8mm home movies one of which shows Sid judging a Rolls Royce Concours d'Elegance in 1967, and a brief glimpse of the Ward Special nearing completion in his garage (I now have this on video – Andrew Ward and his brother feature as 9 or 10 year olds clowning around the unfinished car). Andrew also recalls his father building Repco Brabham panels for Jack, and a series of MG TC bodies for American customers – and some doughnut vans, some of which may still be around in Sydney! Although he is well known for his coach-building on all vintage vehicles, his best remembered project was the well-known duck's tail body he built on the only Australian Rolls Royce Phantom One owned then by Don Sheils of Melbourne.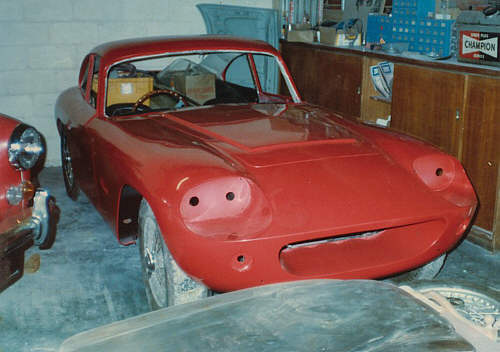 Lindsay Hughes says that the Healey's coupe body took Sid a couple of years, and wasn't completed or painted when he sold the car to Ozzie Tice, A retired policeman, for his son Warren, who was then a car dealer and is still a motor valuer in Melbourne. Payment was in the shape of a Vauxhall 4/90! Warren then sold the car still unregistered to Peter Marshell in 1968 for $1050, the going price for a Healey in those days according to Iain. Peter recalls that the car was still unfinished, many of the parts being in cardboard boxes. Peter completed it, had it painted maroon and registered it with the number KNG 338 in 1970. It acquired its Victorian Police identity V702189P at this point, the original chassis plates presumably having been lost, but a 1971 rego document still refers to the car as a "roadster"!
Peter drove the car for several years, by his own admission thrashing it at times and breaking first gear on several occasions. (This may have been the original Austin A90 first gear, which is normally disabled, as Lindsay Hughes recalls the car having four available gears). Austin A90 parts from wreckers were used to make repairs. At one point the gearbox was rebuilt by a specialist for the (then) tidy sum of $387.00. Peter recalls that the engine had such high compression that he had to manually retard the ignition at the distributor to start the car, even though there were two 12 volt batteries behind the seats. He also recalls the rear tyres fouling the wheel arches on hard cornering. This may have been caused by the specially made wide rim 48 spoke wheels the car used to wear (it is now on 72 spoke chrome Daytons) Coincidentally, the earlier wheels are now also in Queensland, on Bob Pierce's 100/6. In 1971, Peter went overseas, and the car sat in storage until his return nine years later. Then the motor was rebuilt with new rings, bearings etc, but was not rebored or sleeved. Peter thinks the "big bore" story may be correct. Peter is now in a Japanese earthmoving equipment business in Coffs Harbour NSW. In 1985, Peter sold the car to Rob Rowland who had built, raced and restored Austin Healeys, Bolwell and other makes and later went on to found the Healey Factory, which he still runs in Ringwood, Melbourne. Rob painted the car in Holden Maranello red, then sold it to John Best in 1986. John was a car dealer and motor racer of many years experience who effected many improvements, but did not get to the stage of registration in the nine yeas he owned it. John recalls that the car had a lumpy race cam at the time he owned it, but that doesn't seem to be the case now. John sold the car in 1995 to Rob Rowland's brother Peter. John currently runs a travel company in Hawthorn, Melbourne.
Peter Rowland effected many improvements including the installation of fold-down occasional rear seats, Koni telescopic shockers, aluminium fuel tank (a work of art shaped for the spare wheel to fit into) and new 100S style upholstery prior to registration in 1996. The number plate GTV 100 was secured (the nearest available to the original GTV 116) and the vehicle was steadily improved until sold to make way for other restoration projects, including Austin Healeys, Customlines and Mack trucks. Peter is a new Japanese earthmoving equipment retailer whose companies currently hold the Victorian franchises for Toyota skid-steer loaders and Takeuchi excavators. The GTV 100 plates are now on a 100/6, according to Vicroads. The car is now in Brisbane, Queensland, fully registered as GTV 16 (again the nearest available). I'm gradually learning about the car and making some detail improvements, such as instrument lighting. The car is great to drive, very taught and "modern" on the road. It still has its drilled Alfin-style brake drums and back plates with cooling scoops on the front, which make the prospect of wet weather a bit daunting. I have blanked off the scoops! These drums are a bit of a puzzle, as they are all steel or cast-iron, not alloy with ferrous friction surfaces as are true Alfins.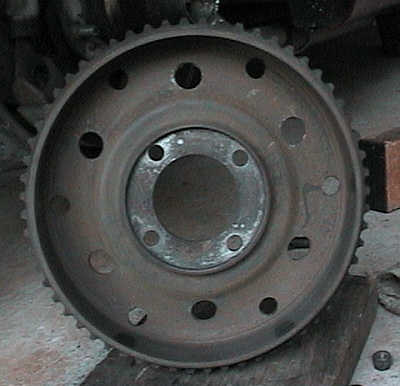 It is very high geared, with 3.54 diff. as fitted to the non-overdrive 3000's. This means it's doing about 2,300 rpm at 100ks in overdrive top, although it seems more "on the cam" at over 3000rpm. The 140mph speedo read low (presumably because of the diff. change) which was a bit risky – it's now been recalibrated by Clive Hammond of Lionel Otto instruments in Brisbane. Clive' first comment on seeing the instrument was "I made the face for this!" The car has a custom-made central gear change on the standard BN1 3 speed box (see photo), which although a bit agricultural works quite well.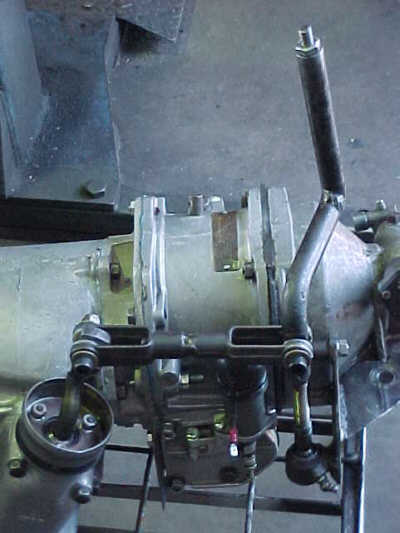 The lever itself is pivoted at the bottom on a suspension ball-joint. Suspected jumping out of second appears to have been the result of an over-tight rubber gearlever gaiter making it easy not to put the car fully into gear! This has now been replaced with a more flexible leather one. A leak from the overdrive valve actuating cross-shaft has been attended to by Greg Tunstall Automotive. They also reduced the play in the linkage, and fitted a replacement adapter plate so that the engine stabilizer can be fitted (the mounting lug had broken off the original one.)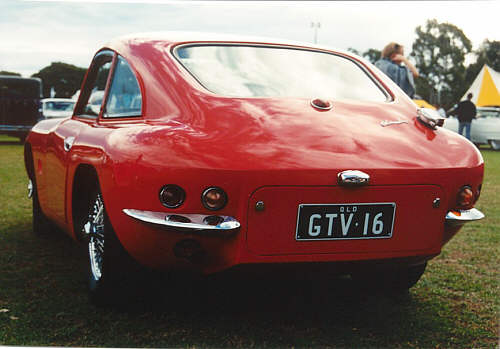 The chassis appears to be quite sound of a bit battle-scarred, especially on the front left side, which presumably took the brunt of the accident. It is quite heavily modified at the rear with deep cutouts in the top under the axle, and corresponding strengthening underneath (presumably to allow more suspension movement). The car handles very precisely and corners flat, presumably helped by all-round Konis. It now has an anti-roll bar (standard diameter) after I welded in a new captive nut for one of the mounting brackets. The engine is strong (175-180 psi cranking compression). There has been speculation as to the weight of the coupe over the standard body. To set this to rest, I put the car on the local weighbridge. With spare wheel, tools and about a quarter tank of fuel it came out at 1160kg. According to my factory (reproduction) workshop manual, the dry kerb weight of a steel-bodied 100 was 987kg. If you take off the spare wheel and tools, the coupe comes out to 1130kg, or about 140kg heavier than the standard body. This surprised me a bit as the body is all alloy. There must be a lot of steel framing!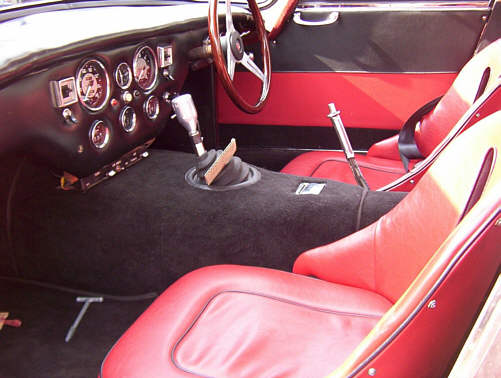 Altogether it's a fascinating car and a real piece of Australian motoring history. As the Healey Factory put it in their ad: "Although there were a few Australian-built Austin Healey coupe "specials" in the 1950's and '60's, none of the others was as professionally built. This car has many fine fitments like the hand-made front and rear bumperettes that complete the look of the era and are the true mark of quality craftsmanship (look at the recessed rear lights as well) The car has an interesting history that is very well known and documented, but its true appeal is the stunning styling that was way ahead of its time then and is still both interesting and attractive today". It makes an interesting comparison with factory-built 100-based coupes, and others such as the Belgian-built D'Ieteren conversions, being a completely coach-built vehicle akin to, for example, the WSM 3000, rather than essentially a converted 100.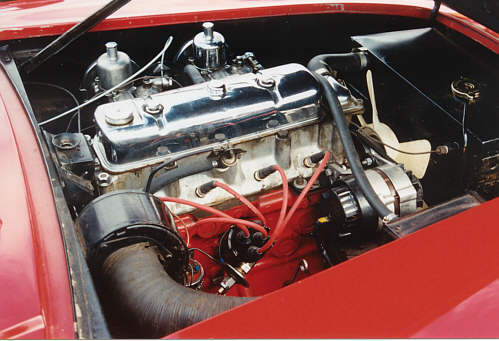 Details:
Chassis: 1955 Austin Healey 100/4 BN1
Chassis no. BN1/222490 (no plates, given Victorian Police ID no. V702189P)
Engine no. H1B/222490-M
Body no. 7491
Gearbox no. 2134
O/D no. 28/1292/6989
Worked 2.6 litre (?) motor, twin side-draft 1 3/4" SU carbs on fabricated manifold, heat-proofed exhaust manifold, Flex fan, alternator conversion.
Custom radiator (20 litre capacity cooling system)
3-speed BN1 gearbox rebuilt by John Needham, 28% overdrive, custom centre-change linkage
Koni adjustable shock absorbers all round
Custom alloy fuel tank
3.54 diff
Front Alfin-style drums, drilled for cooling
72 spoke Dayton chrome wire wheels
100S style front seats, 2+2 conversion, wood-rim steering wheel
Electric windows (!)
Full dash inc. 140mph speedo, tacho, oil pressure and water temperature gauges, ammeter, vacuum gauge, fuel gauge, clock

Finally, if anyone knows anything of the car in its original, GLE 273 form, please contact me!
Peter Linn
Brisbane