1954 Nash Healey LeMans Coupe page 16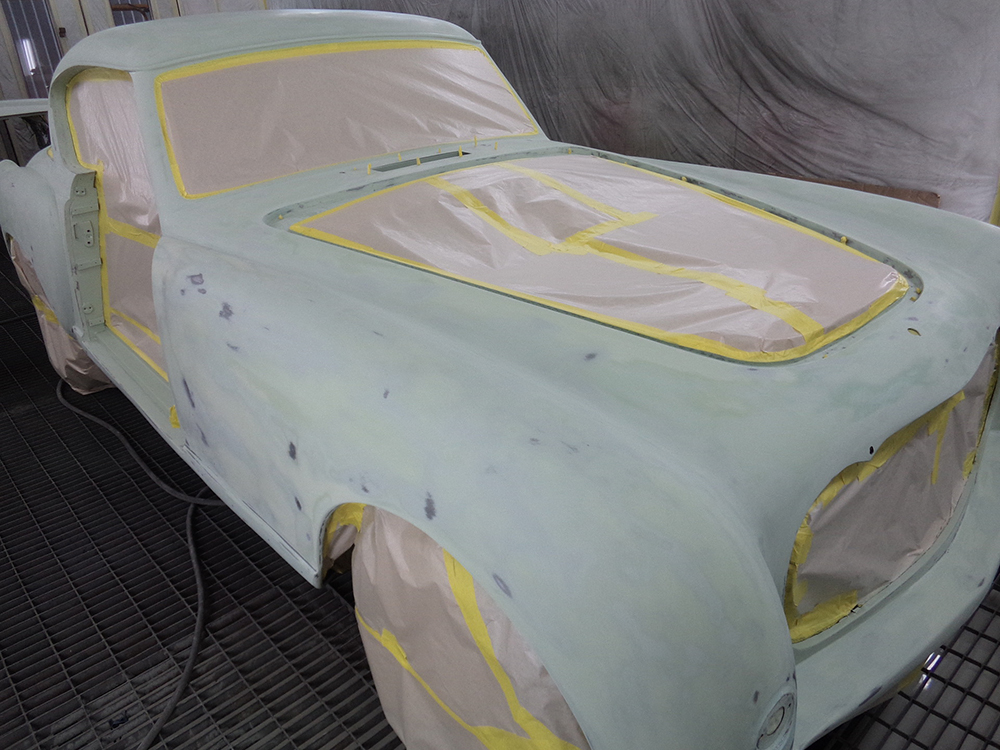 It's time to get the outer body paint done. This has been given to The Healey Factory in Melbourne to carry out. The body is very straight so there is not filling to do as such.

---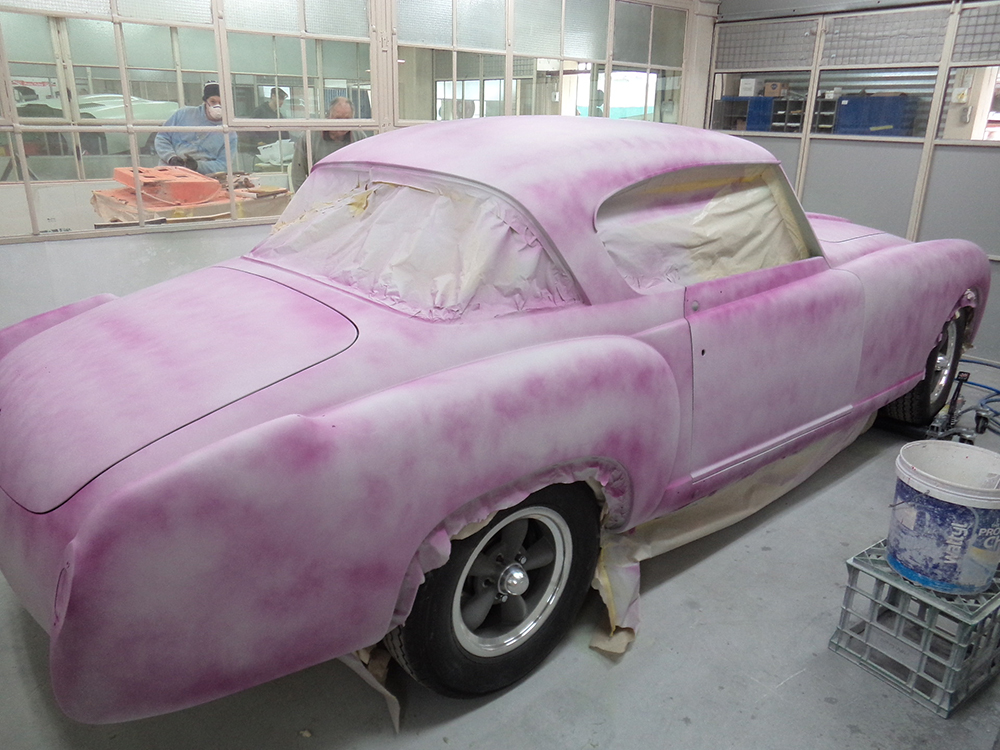 Guide coats are applied to help pick out any highs and lows.
---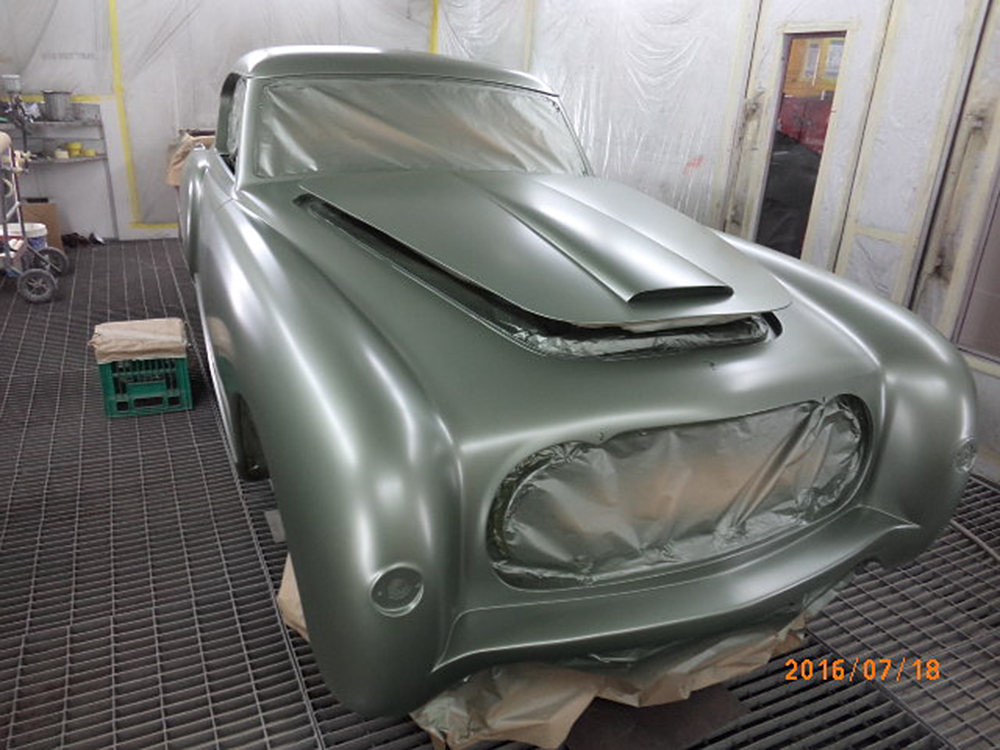 The base color applied, its and Aston Martin color, Californian Sage Metallic.
---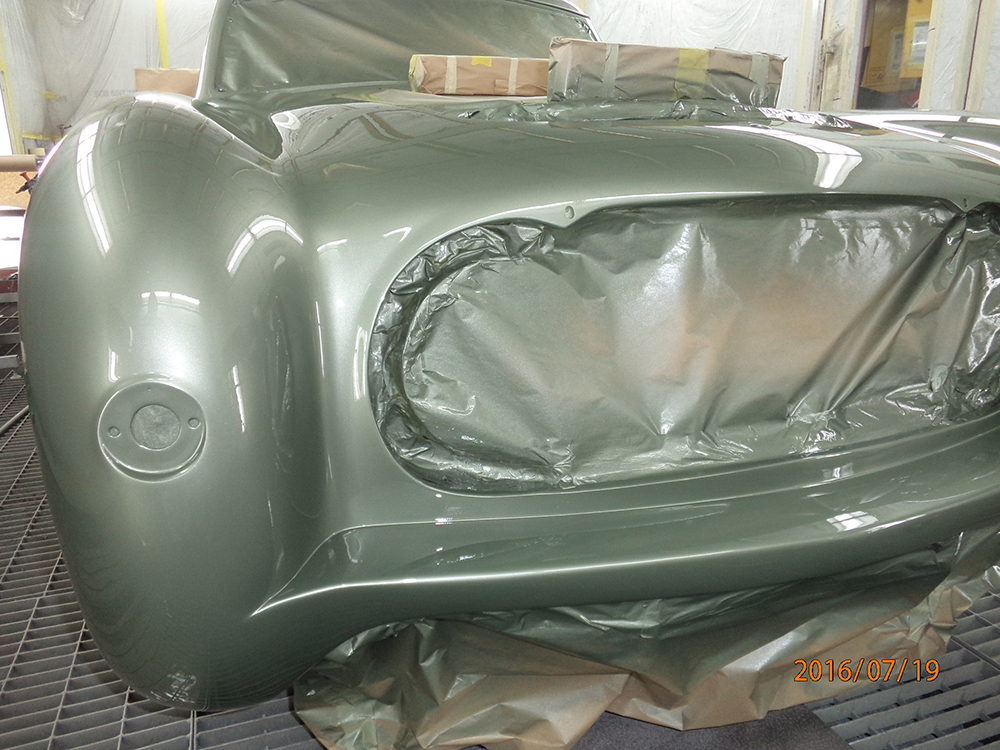 Then Clear over the base color.
---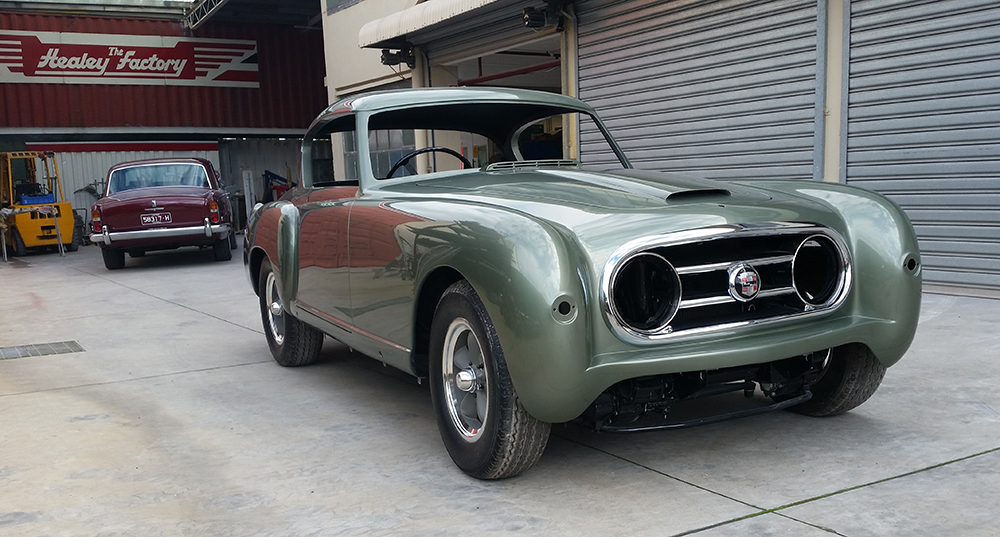 The finished result, I was very please with the standard of work done.
---
While the car was away being painted it was time to tackle some of the smaller jobs. The Nash Healey front over riders ( bumper guards ) are a shorter version of the Nash sedan units. Pinin Farina shortened them by 50 mm, apparently some also had the backs closed in and others didn't. Here I have removed a 50 mm section.
---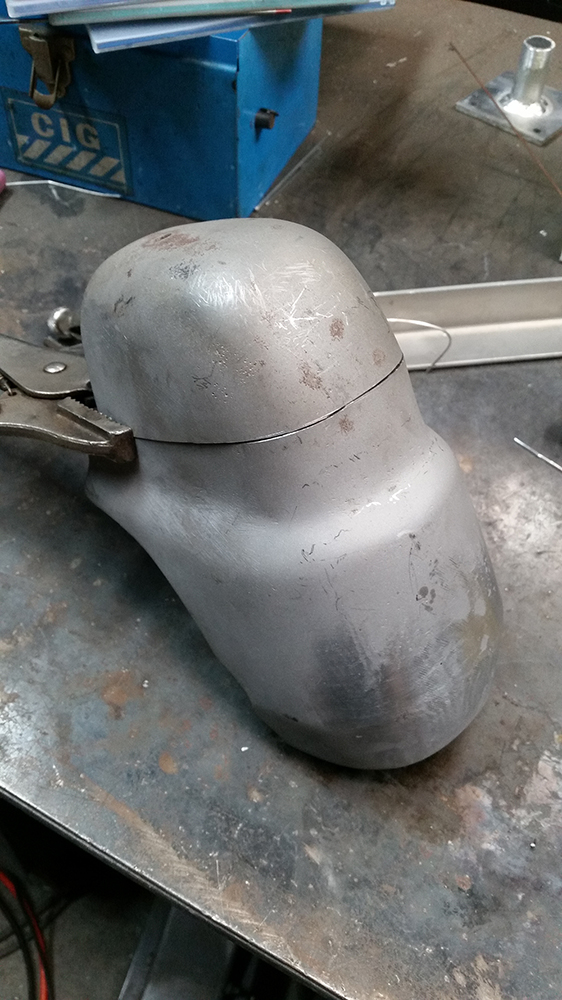 Clamped up and ready for welding
---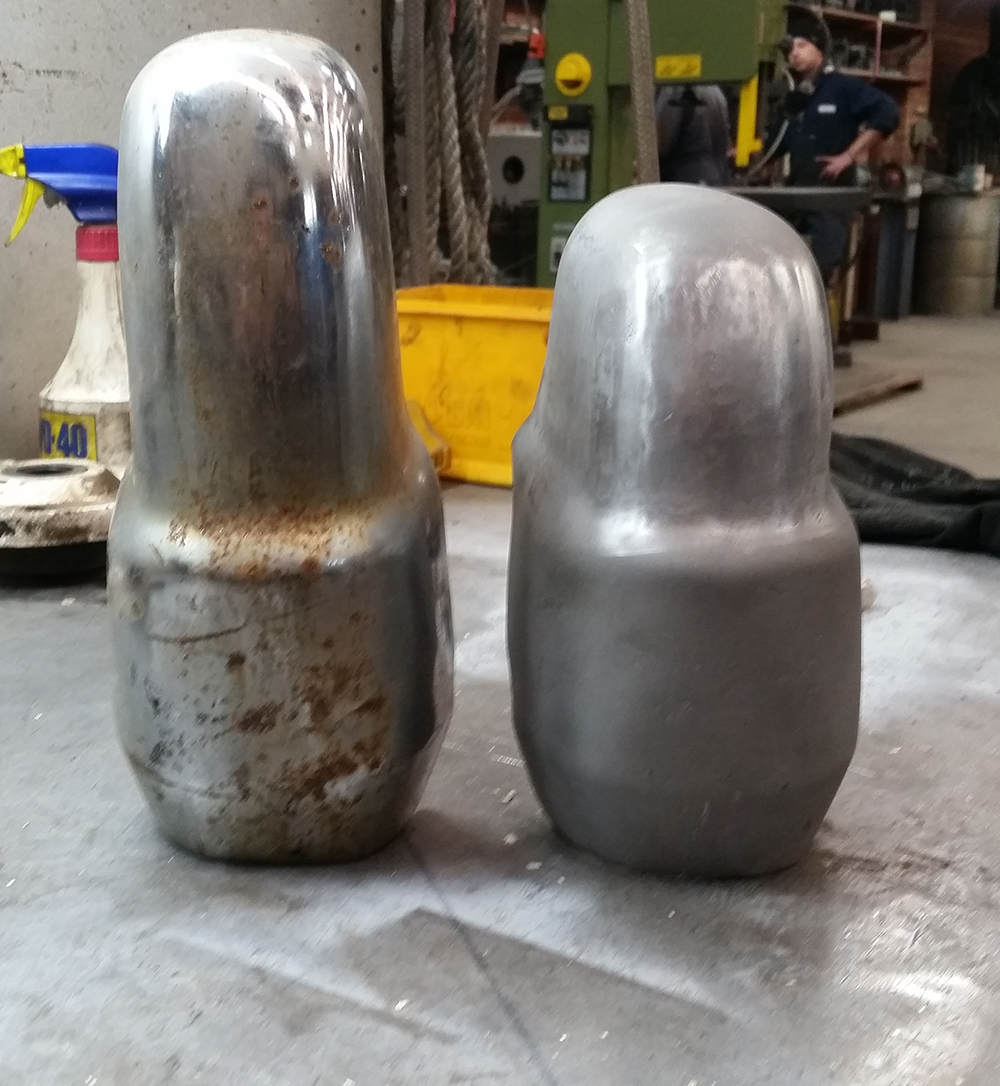 The completed shortened version next to a standard one. The Nash Healey uses the standard height on the rear bumper.
---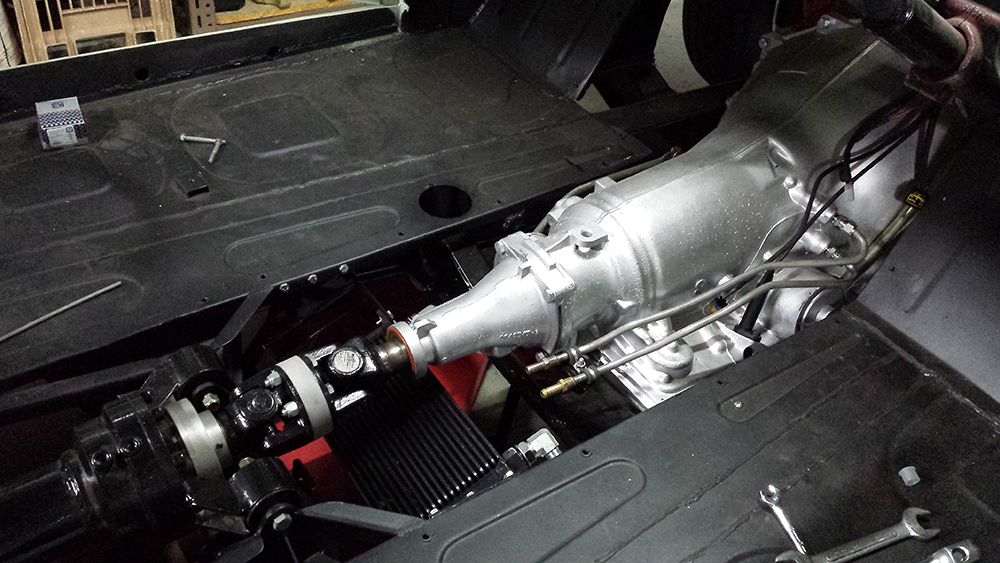 The transmission installed, its a GM TH700 4 speed with overdrive. Trans cooler under the floor.
---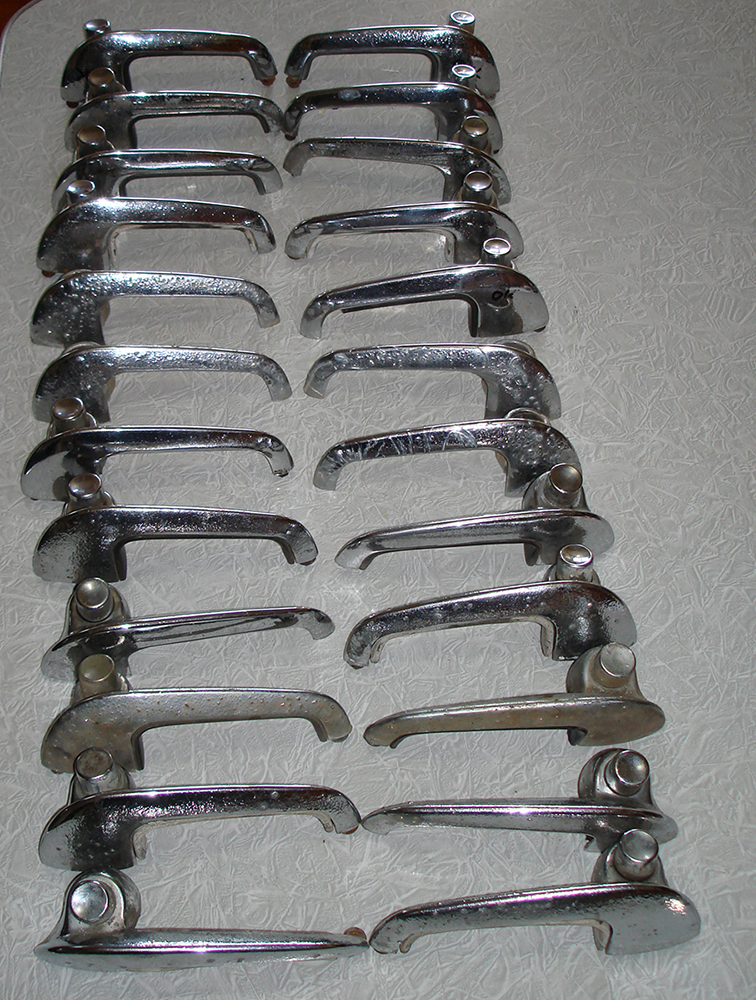 Nash Healey coupe exterior door handles, They are the same as 52 to 54 Humber Hawk and Snipe, so I collected all I could find!
---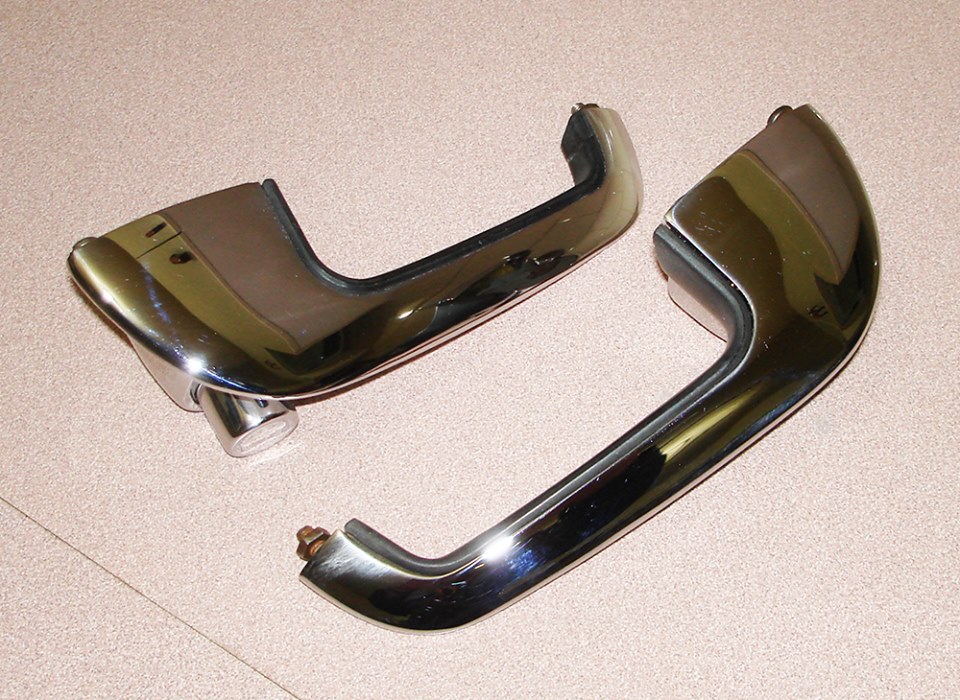 Repaired and re chromed, an excellent job done by A Class Metal Finishers in South Australia who specialize in repairing die cast
---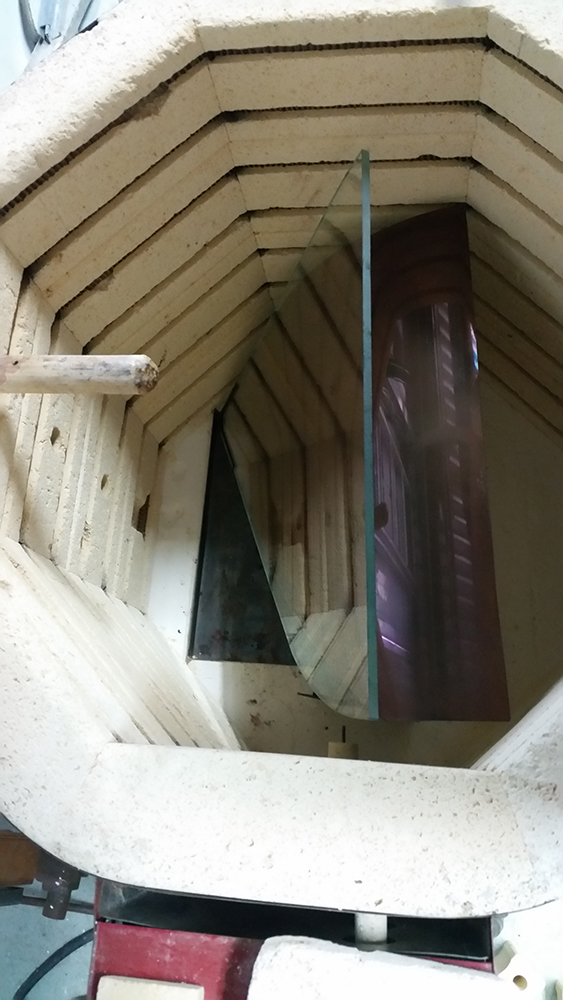 Both of my cars were missing rear corner glass used on the 54 Coupes, as it is impossible to find and as I didn't want to use plastics, I decided to set about working out how to bend glass. I managed to find a small second hand Kiln, which is barely big enough. I rolled up formers in 16 gauge polished stainless steel to sag the glass over. The glass blanks I had cut to finished size in 6 mm thick. I took a lot of experimentation as I could not see inside the kiln when up to temperature so I had to work out by trial and error the temperature the glass needed to sag. Here the flat sheet is clipped to the curved former at an angle to encourage it to sag with heat and gravity.
---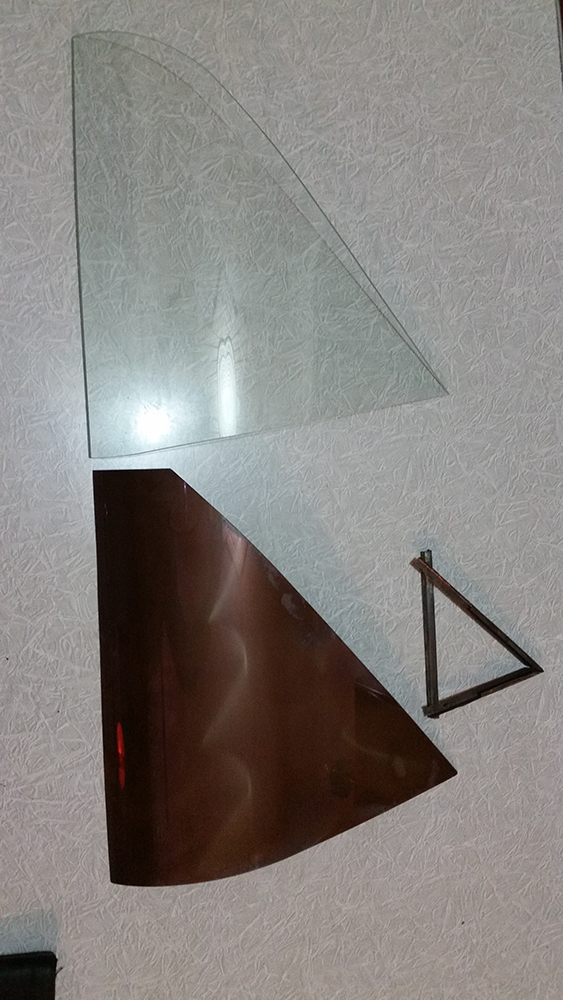 The curved glass, former and clip to hold the glass on the former when the glass is still flat.
---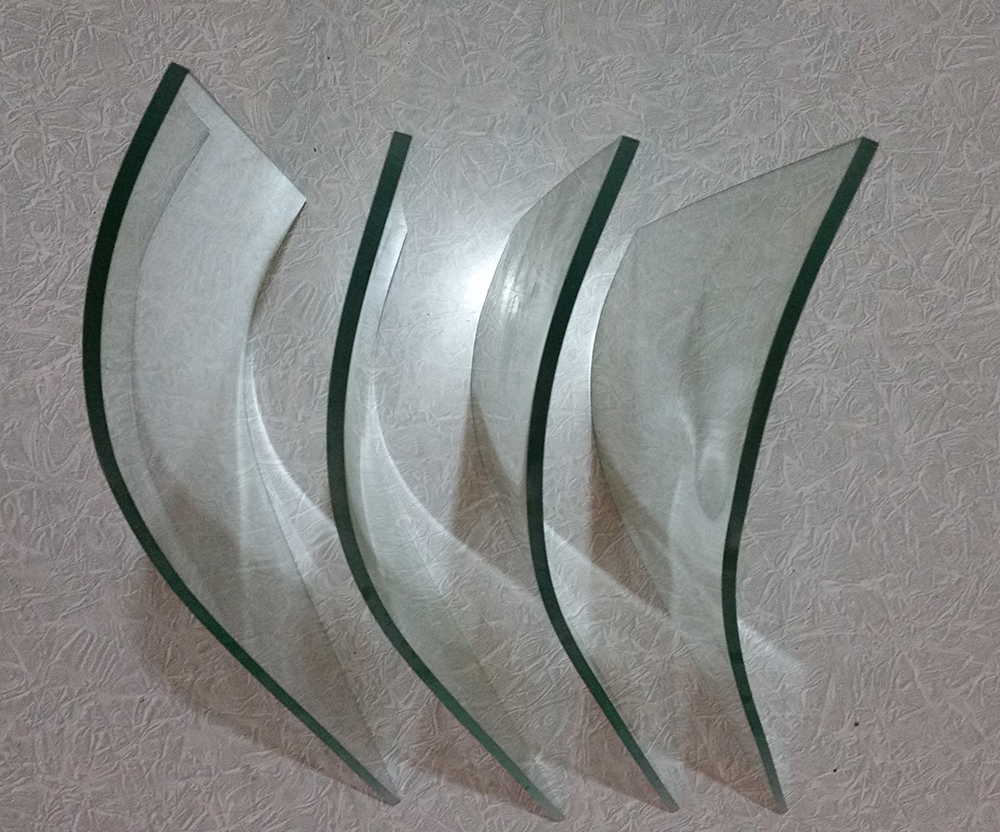 Completed curved glass. I eventually worked out I had to take the kiln slowly to 600 C, hold it at that temperature for 1 hour, and slowly cool to 455 C to anneal the glass, any hotter that 600 C and there is a risk the glass will stick to the stainless steel then crack while cooling. I also had to re polish the stainless steel former between attempts as the glass will stick to the copper colored oxide that forms on the glass between firings. With heat up and cool down the process takes 5 hours. Even once I came up with a repeatable process and followed it there were failures for reasons I don't know but at least I ended up with enough glass for both sides of my cars and a few spares.
---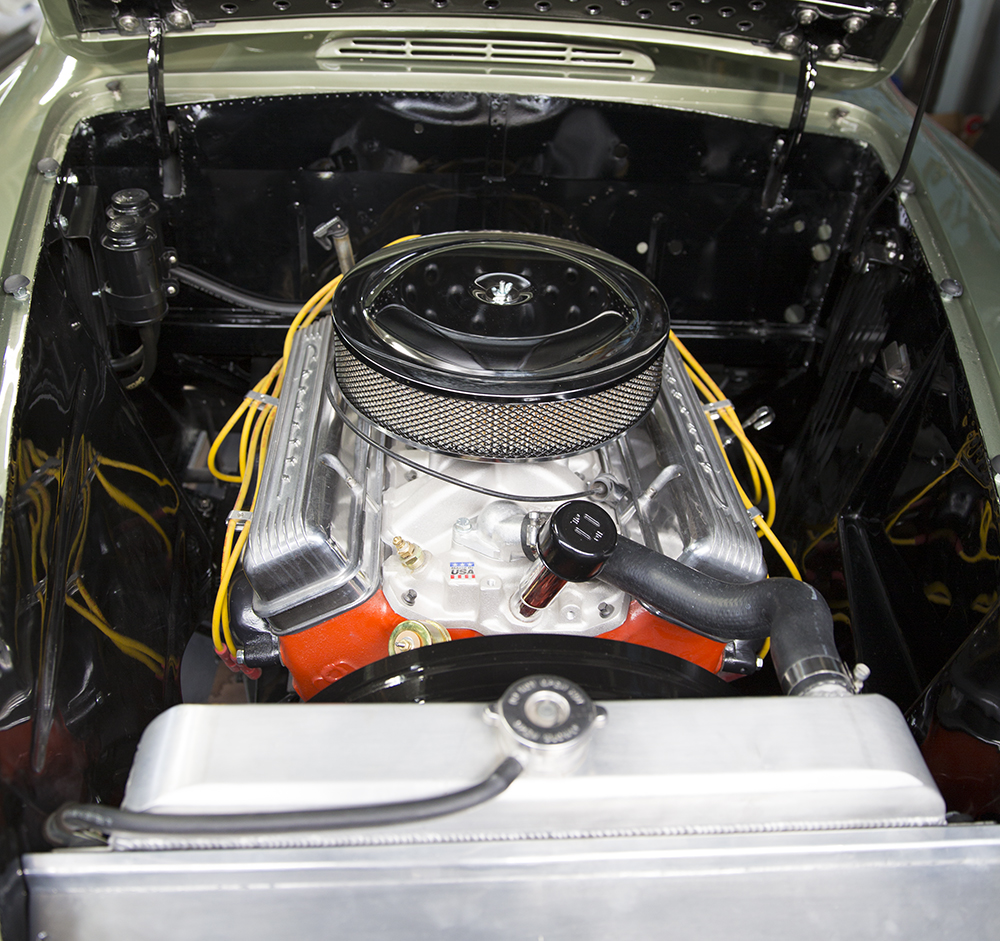 Engine installed in the car, note the 2 Austin Healey brake fluid reservoirs for the dual circuit brakes. The engine block is the earliest 327 Chev I could find and has cast iron "double hump" heads as I didn't get the engine or trans that was fitted by Roy Stetina in the early sixties. That engine was probably a 283 corvette, so I have indulged myself a bit looking for grunt! Under the high volume air cleaner is an MSD self tuning throttle body injection unit that looks like a 4 barrel carb. I have based the build on low speed torque rather than high RPM horsepower. It has an original 327 steel crank, overbored 20 thou with forged pistons. Mild hydraulic roller cam and roller rockers. I have stayed with the original rams horn exhaust manifold, ceramic coated black to hold back heat.
---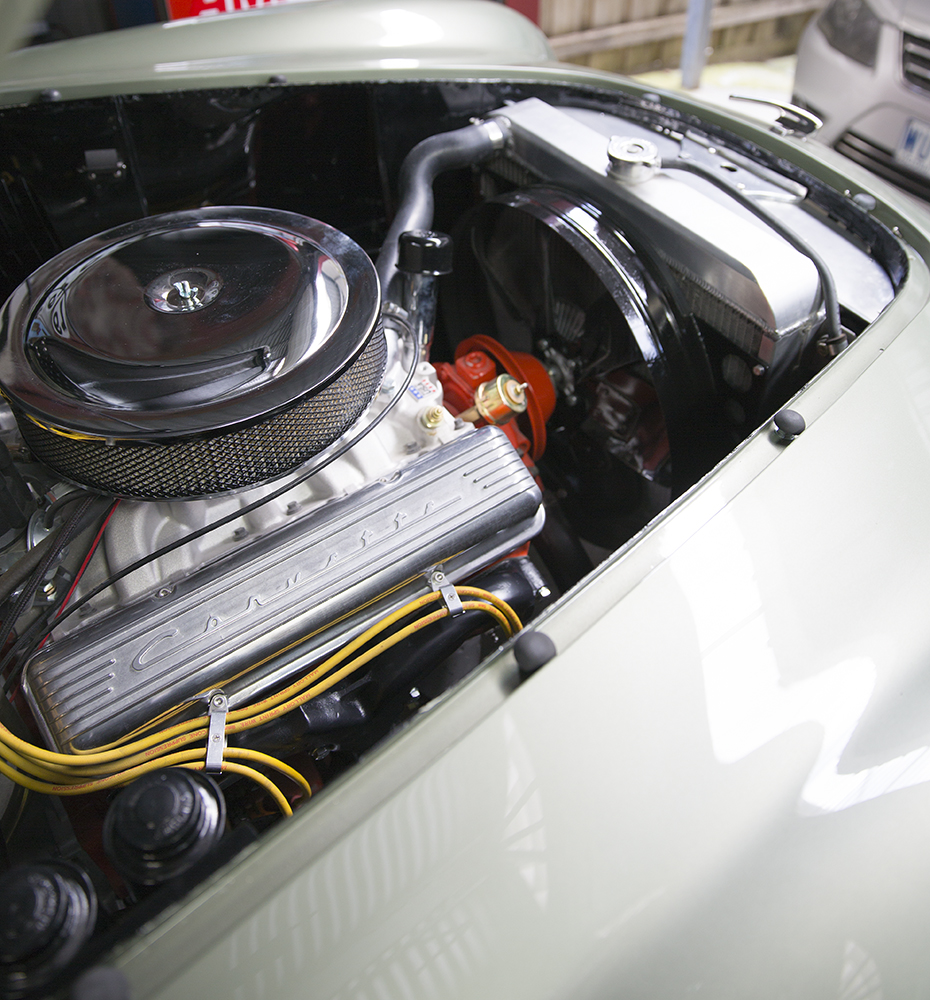 For cooling I have a custom made alloy radiator as big as would fit, added a clutch fan and made a period style fan shroud to increase fan efficiency. It also has a thermostat controlled electric fan in front of the radiator.
---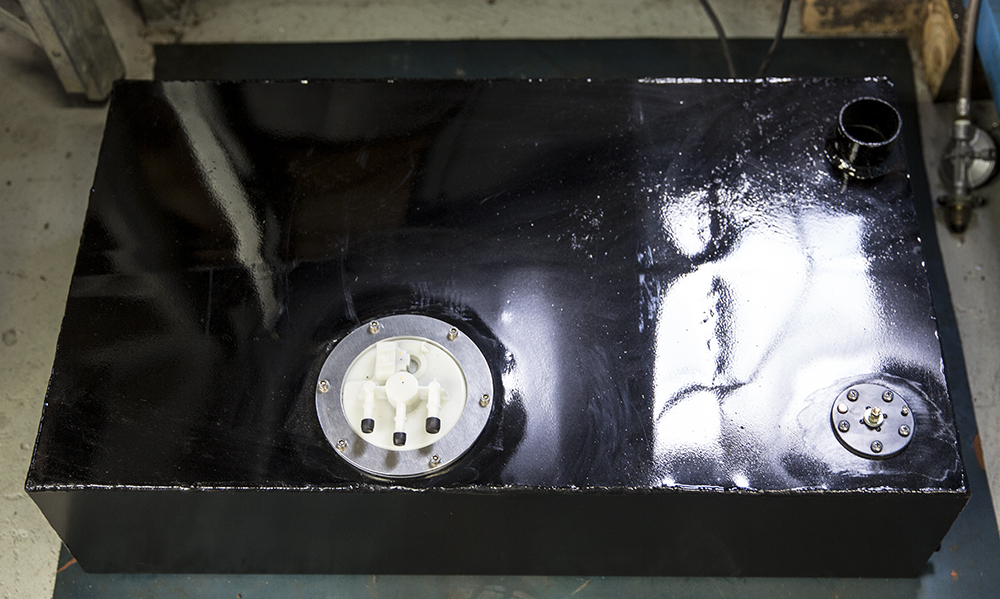 Alloy fuel tank a bit narrower and deeper than standard, to give clearance for the left side exhaust, its about 60 litres capacity with high pressure in tank fuel pump to feed the fuel injection system. The 3 connections are pressure out, fuel return and tank vent. The assembly is from a late model Australian Ford, it is spring loaded to hold it to the bottom of the tank and has a built in swirl pot to prevent fuel pressure loss during cornering.
---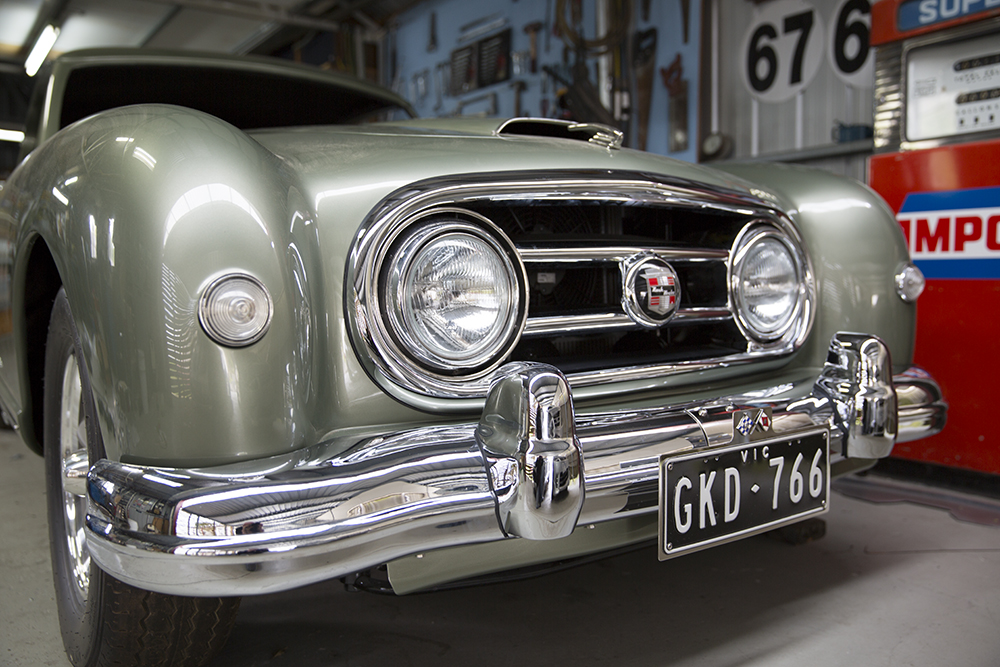 This is the car November 2016 going back together
---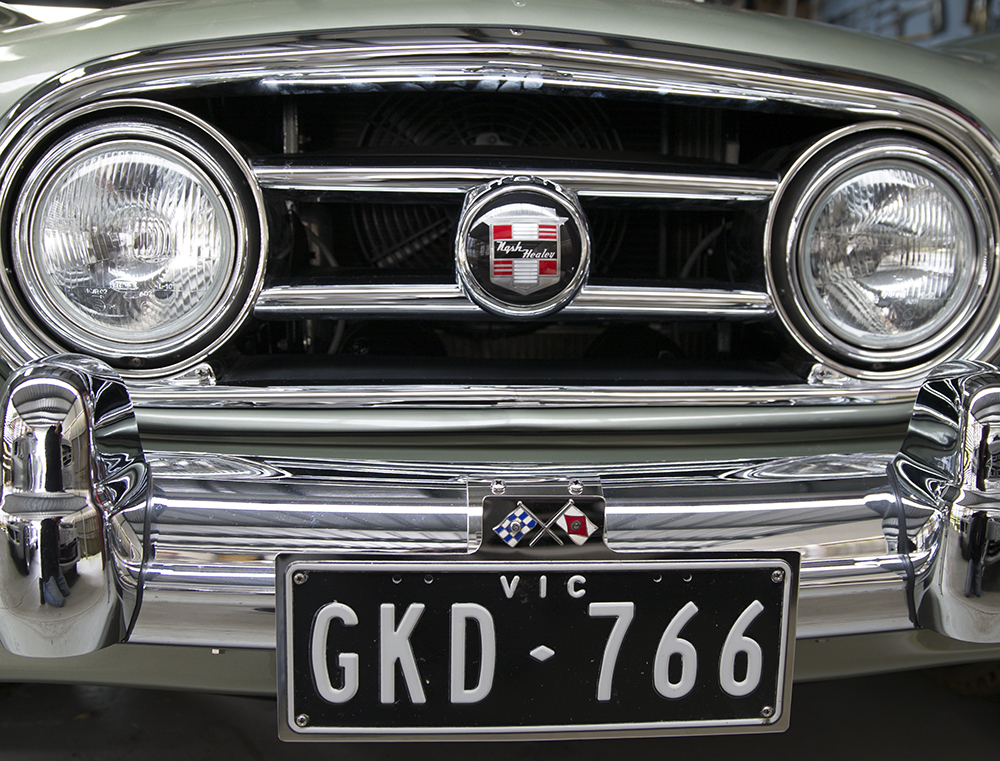 Above my license plate is the badge Roy Statina modified to name his car "The Stetina Corvette Healey"
---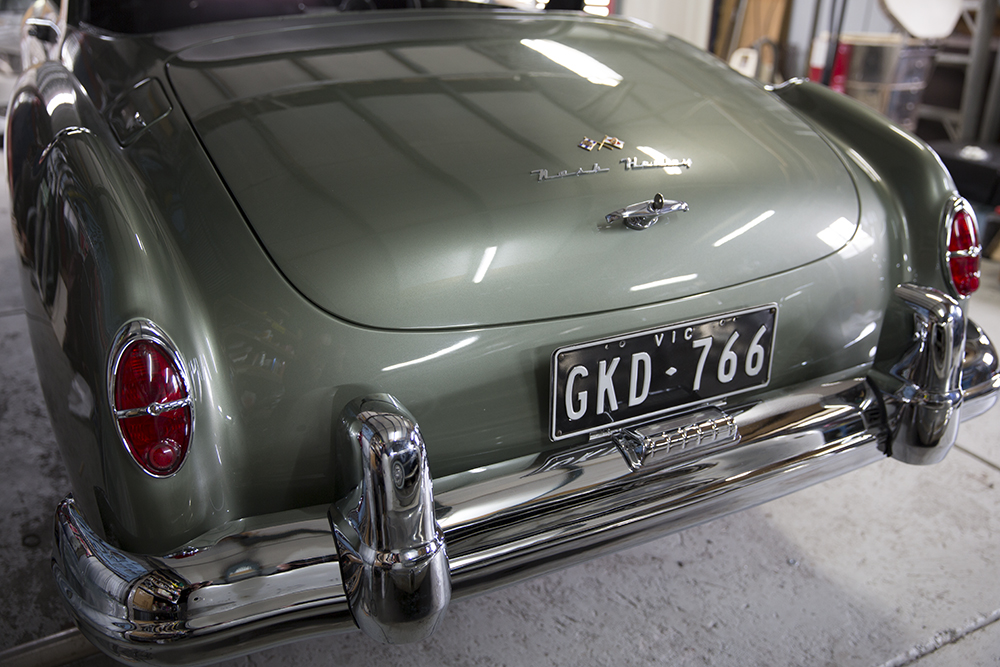 Rear view.
---
Nash Healey parts I need
2 x dome light lens
1 front windscreen chrome trim
1 x door key lock
1 x boot lid handle and lock
2 x interior door handles
1 x window winder handle
5 x interior door handle escutcheon sets
1 x fuel filler door
1 x front interior windscreen interior alloy molding ( bottom and sides )

1 x Rear vision mirror
Page 17
Home