MacHealey
It had been many years since I had seen the car on the track, but as a Healey and Austin-Healey owner for over a quarter of a century it was THE historic single seater racing car for me. The one that I lusted after more then any other, and one that I had followed with an interest for virtually the whole of my adult life. I was at the September 1998 historic meeting held at Eastern Creek Raceway in the western reaches of Sydney, and was looking forward to once again seeing the MacHealey and its current owner Alex Reid who hails from Melbourne some 600 miles south of Sydney. I had first met Alex way back in 1972 when my BN1 had failed to proceed during a trip to capital of the Australian state of Victoria.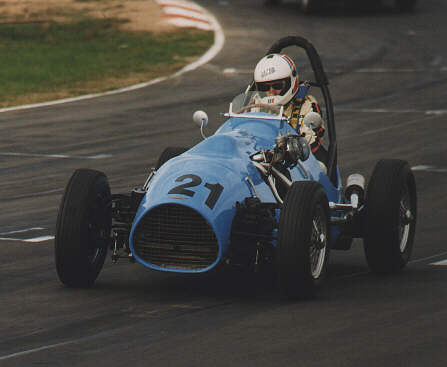 It is hard to imagine that the MacHealey started life as a road going sports car, as one of an initial trio of new 1954 Austin-Healeys bound for the state of South Australia and caught fire enroute from Melbourne to Adelaide the South Australian capital. The remains were bought by South Australian Peter De Mac who stripped it with the intention of constructing a Jaguar powered sports car. Then friend and fellow South Australian Greg McEwin who was at the time competing in his own Austin-Healey 100 arranged a deal with De Mac and swapped his own car for the remains.
McEwin removed the front and rear bulkheads and outriggers leaving the rectangular box-section frame plus front suspension posts and rear suspension spring brackets. Then he and De Mac constructed a Ferrari looking body out of aluminum and fibreglass by a plaster over wire mould and painted a mid blue. Mechanically the car was left standard, but in the interests of handling the engine and gearbox was moved back eleven inches. It was first used in anger at a hillclimb in 1955 where McEwin recorded it as going well, which he believed was due to the car being several hundred pounds lighter then a road going Austin-Healey.
It wasnít long before McEwin came up against the weakness of the gearbox. He tried a number of different alternatives such as the Austin Gypsy 4WD and the Morris LD5 units but each were found to be too heavy. A four speed from the Austin A90 six cylinder was then tried and although first gear was too low he stuck with that. Additionally during the time the capacity of the engine was taken out to just under three litres. Breathing was also improved by work on the cylinder head, larger carburettors, and an extractor exhaust system. Finally the differential was modified to reduce wheelspin on corners.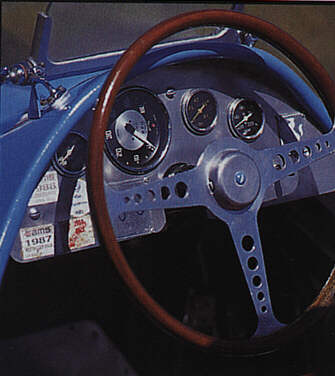 With the modifications success was again achieved, however no competitive racing car remains static and once again the gearbox was changed, this time from that of an Austin Champ 4WD. To accommodate the box it was necessary to turn it on its side with a fabricated bellhousing, which meant that the starter had to be removed as there was simply no room for it. Plus once again much detailed work was done to the engine and two inch SUs fitted. Finally in 1961 the MacHealey was sold and for a few years its history is decidedly cloudy.
The vehicle then surfaced in Sydney some 900 miles from Adelaide and it is thought that in 1963 it was run at the now defunct Warwick Farm track in Sydney. It was then punted on various tracks around Sydney and in 1968 fitted with a 2.4 litre six cylinder engine from a Holden sedan, plus disc brakes and MG gearbox.
The car changed hands once again in 1971 when it went to Sydney Healey enthusiast and club member Roger Wells, however due to other commitments Roger stored the car until late 1974. He was persuaded to bring the car out in late 1974 for a closed race meeting run by the MG Car Club. This is where I was first introduced to the car. I remember the day well as being a typical Sydney summerís day with one minute it was absolutely bucketing down and then fierce sunshine the next along with extreme humidity. The MacHealey looked very much like a well used racing car, painted a sort of dull black and sported the Holden engine and MG gearbox.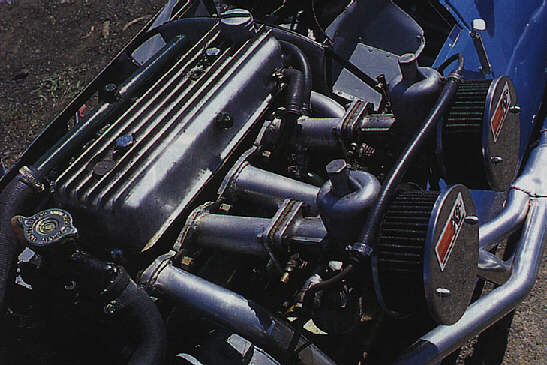 Roger then proceeded to take the MacHealey back to as close to original as he could, complete with four cylinder Austin engine and Gypsy gearbox. The black paint was removed and it was painted a brilliant shade of red and with a chromed exhaust running down its side it certainly looked the part. In fact it looked so good that it was entered in our concours in 1976 and won the Miscellaneous Class.
Donald Healey visited Australia in 1977 and an all Healey race was staged during an Historic race meeting in January. It was a handicap race and Roger was at the very back being the fastest car and yours truly was near the front. Two laps later Roger wearing his customary white scarf blowing in the wind shot past me like I was standing still and went on to take the chequered flag and the trophy from Donald Healey. Roger really had the car firing in 1977/78 and I can recall another event the following year when the Ferrariesque MacHealey was up against the real Ferrari Super Squalo. Both cars were quite evenly matched and it was a thrilling sight to see both coming through a corner together and sprint wheel to wheel down the straight.
Roger kept competing the car until 1988 when it was sold to a fellow club member, but due to the pressure of other projects he was unable to do much to the car and after three years sold it on to Alex Reid.


Gone To Victoria
Alex has been a member of the Victorian club since the late 60s and was no newcomer to the historic car movement. It is sad to note the not long after Alex took possession of the car Roger Wells died leaving a young family.
Alex soon saw that years of spirited competition had certainly taken its toll on the car. Besides significant rust in the chassis it also exhibited a pronounced banana shaped sag caused by the removal of various cross members and cuts/nicks to accommodate the Austin Champ gearbox. The decision was taken to restore the car to its early 1950s guise.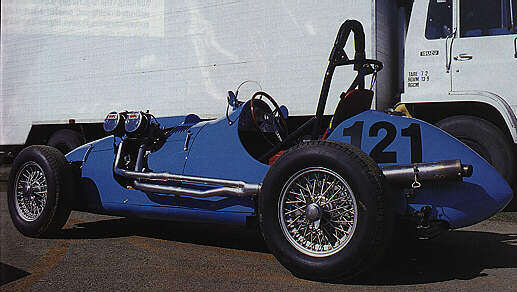 Replacement chassis rails were obtained from Kilmartin Sheetmetal and then all the brackets, fittings, front and rear cross members and suspension posts were removed from the original rails and welded to the new. A central cross member was also fitted as it would have been originally. The original suspension, steering components plus the shock absorbers were reconditioned and fitted. A non-overdrive four speed Austin-Healey 100S type gearbox has been fitted allowing for the chassis centre cross member plus a starter.
The engine was been sleeved back to 2,912 cc, which was deliberately chosen as been indicative of competition Healey engines of the fifties. It also allowed Alex to use a set of Repco competition pistons that he had been saving for the occasion. The body is original, although much reworking had to be done due to it being constantly modified in the past as the chassis progressively sagged. Finally in late 1989 the MacHealey was finished and with a glass or two of champagne it was christened ready for the track.
On The Track Again
On 15 February 1998 the MacHealey was once again on the track with private practice and the driver was long time friend and fellow Healey owner Graeme Marks. It was the start of a steep learning curve for both Alex and Graeme. An insignificant mid-field result ensured and then later in a demonstration run the differential cried enough and went bang in a big way.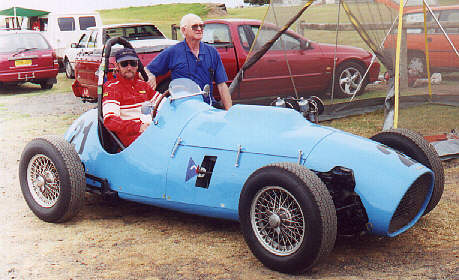 Then came a two day race meeting in South Australia. By this stage both Alex and Graeme had managed to sort the car and themselves out. It was if the car knew that it was back home in its own state and excelled itself by achieving a third, a second and two firsts. Needless to say there were happy little Vegemites as they trailered the car back to Melbourne.
When I saw the car again at Eastern Creek I had to look twice as I didnít recognise it in its blue livery. I thought it was a gorgeous car and so beautifully, tastefully and sympathetically restored. I was thrilled to see both Alex and Graeme enjoying the MacHealey so much, plus it was performing extremely well. I was standing next to friend Eric Rudd who has prepared his Austin-Healey 100/6 for racing and on pointing out the MacHealey Eric said "There goes a brave man!"
All good stuff and good fun.
Email Patrick Quinn
Sydney, Australia
Image Credits
mac1.jpg - Gary Cooper Photographer 065 54 7482
mac2,3 and 4.jpg - Jan 99 Australian Classic Car
Home