Ian Williams started building the Williams special in April/May 1964, utilizing a "Grey" Holden engine purchased in bits for 10.00 Pounds and a Riley 1.5 litre gearbox. The car was completed in August/September 1965.
The Holden "Grey" engine was the power plant from the first Australian massed produced family car the Holden FX from 1948. The car was designed at General Motors, with early engines produced in Canada. This engine went on to be produced in Australia and powered Holden cars until 1963.
The space frame of RHS tubing and aluminium was constructed by Ian and a friend in Mordialloc, to their own design. Triumph Herald front suspension and rack and pinion steering was included in the design, and a Morris Minor rear axle mounted on an "A" frame and radius rods. The front and rear panels in fibreglass are from a Bolwell MK4, purchased new by Ian for the project, the front panel modified to accommodate the much larger Holden engine. Improvements to the car shortly thereafter included replacing the Triumph Herald drum brakes with discs from a MK3 Zephyr adapted to the Herald Uprights, and replacing the rear axle assembly with one from an FE Holden.
The car was initially road registered in 1965 as the Williams roadster, chassis number 1, registration number JHW 082. At the time in Victoria cars were road registered by simply turning up at the local police station and filling out the appropriate forms. The following is Ian's recollection of the event.
Presented early one morning 1965 at East Geelong police station. Parked in specified car park flanked by low hedge. Police officer asks where car is for inspection, from the desk nothing in sight! Assured it actually was there, the officer has a look and instantly decides his superior officer should do the inspection!
Superior is a large man, who, I think for something to say insists on sitting in the car. For a 16, 17 stone man this was somewhat difficult! First the fibreglass seat could not accommodate fully his rear end, which instantly sat him up several inches, causing his elbows to interfere with the doors. Secondly, his police issue boots (!) covered all three pedals at once. He indicated that this was not safe and would have to be modified. My reply was that if you can't fit in the thing, you wouldn't drive it! He said that if the car was ever sold, the recipient would be unsafe. My reply again was the above.
In a fit of temper, I drove home, grabbed a pair of tin snips and cut out half the aluminium drivers door then used a crowbar to bend the accelerator and clutch pedal away from the brake! Within an hour I was back at the branch, who then calmly did not re-inspect but proceeded with the registration paperwork! ( the doors are now fibreglass and the pedals re-jigged).
As an aside, I spent hours, days, weeks setting up a micro windscreen wiper to actually work since I was under the impression i needed a wiper even though I looked over the perspex screen. I later was told later that if I had nominated the screen as a wind "deflector", I wouldn't have needed the wiper.
On with the registration paperwork, the first question, was what type of car was it? Having not thought about this, I said the engine was Holden so it probably was a Holden. The officer hesitated, then said " I don't think General Motors would be happy about that". After mulling over the Bolwell shells and home made chassis, he asked "what's your name, son?" The car was duly recorded as a Williams roadster!
I was able to give an engine number, but the next question was for a chassis number. After admitting it didn't have one, I was told to go out and scratch number 1 on it somewhere.
It was with great pride I was able to drive back home (via all the main streets of Geelong- which created quite a revelation in those days) with registration number JHW082.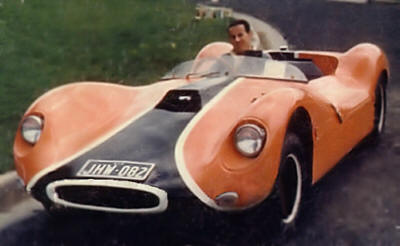 The Williams roadster pictured above on the day of its first registration. Note the screen wiper!
Note: The Bolwell MK4 was a kit car, usually sold as a chassis and body assembly ready for fitting out with mechanical parts. Approximately 75 Bolwell MK4's were produced in Melbourne during the 1960's. Most of these cars were fitted with Ford Cortina 4 cylinder engines, other power plans included Peugeot and a few that were built with six cylinder Holden and Ford Falcon engines.
Subsequently the car was re registered IAN 041 in the mid seventies when the car was spasmodically used on the road. A Borg Warner 4 speed gearbox was used in the car during this period.
Details
Certificate of description number M.275.01.01
Cams log book - H1379
Engine - Holden 6 cylinder "Grey" motor
Gearbox - Riley 1.5 with Needham close ratio gear set.
Differential - Holden FE
Front Suspension - Triumph Herald
Weight - 700 Kg ( 380 KG front and 320 KG rear)
Racing history Ian Williams
The car was initially raced by Ian at the Geelong Speed trials in 1965, entered in Class 4 and wearing number 28, the car covered the distance in 18.89 seconds. The car was entered under the Ecurie Corio ( see note below) banner, at Ron Redpaths suggestion after carrying out some exhaust system work on the car. The time was dramatically improved at its next appearance in 1981 when the car was entered in class 15 number 33 with a time of 16.08 seconds. The car was also raced at Calder Park in 1966. The Williams Special then went into storage for many years until Ian decided to take up Historic racing after attending an historic meeting at Sandown in the early eighties. Group M Log book V5055 was issued by C.A.M.S. for the Williams special on the 20-05-1981.The cars preferred racing number has always been 33 as Ian played V.F.L. football for Geelong in the early 1960's wearing the number 33 Guernsey. The car has competed in the following events.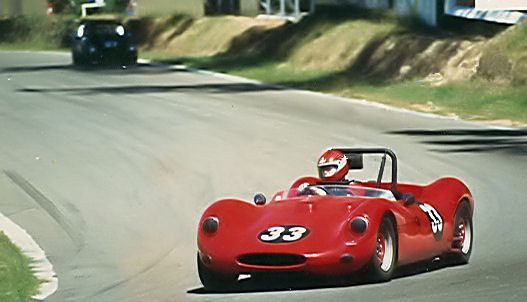 Ian Williams

---
Winton - May 1981, March 82, May 88, May 90, May 93, May 94, May 97
Sandown - September 1981, Sept. 82
Geelong Sprints - September 1981, Nov. 94
Calder - December 1981
Philip Island - October 1982, March 93, March 94, March 97, Feb. 98
Amaroo - August 1985, Jan. 90, Aug. 90, Jan. 92, Jan. 93, Jan. 97, Jan. 98
Oran Park - 1998,
Lakeside - October 1990
Eastern Creek - August 1991, Sept. 92, Sept. 96,
Tarrengower - October 1994
Wakefield - September 1995, Oct. 97, Nov. 98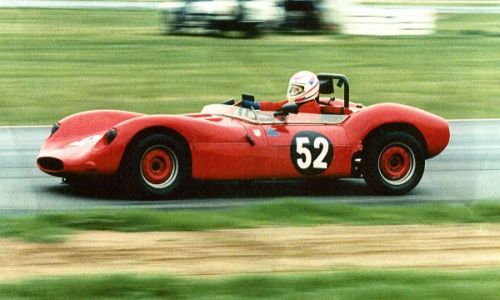 Ian Williams
---
In September 2003 Ian passed the car on to his son Troy Williams who continued to race the car until April 2005
Racing history Troy Williams
Eastern Creek - September 2003, June 04, Sept. 04
Wakefield - November 2003, Nov. 05, April 05
Oran Park - Feburary 2004
Philip Island - Feburary 2005
---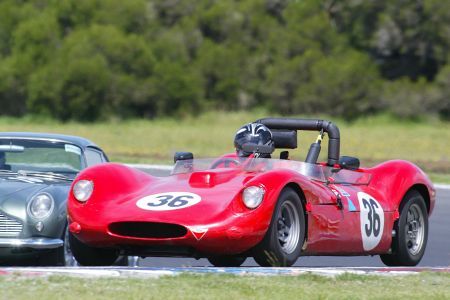 Phillip Island 2005 (Troy Williams)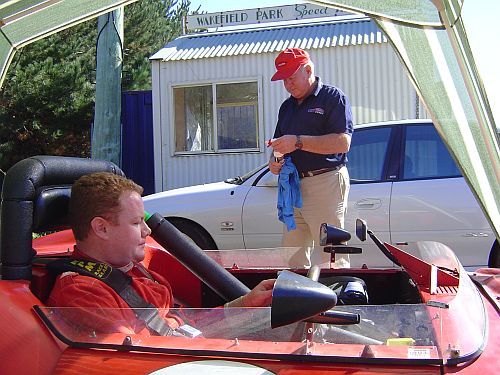 Ian and Troy at Wakefield Park 2005.

---
Note supplied By Gary Grant :
Ecurie Corio was a local race preparation business that was operated by Ron Redpath in an outbuilding located at his family's very successful and profitable woolen mill business on the banks of the Barwon river at Chilwell ( since become part of Newtown) in Geelong that was in operation in the 1950's. Sadly Ron died suddenly due to a heart attack or similar, if my memory serves me well, in the 1960's and the business was wound up. His son Bill has since rebuilt his "Oldsmobile Rocket" engined special in its original open chassis form, and is now a regular (and formidable) competitor at events such as Rob Roy.
At the time Ecurie Corio was recognised as one of the countries foremost race preparers and the place all the "quick" cars came from in Geelong. In not sure if Ron made a lot of money, however he made a lot of friends as it became the place to "hang out". Clients included Tom Hawkes (Lago Talbot and the Cooper Corvette (originally the ex Brabham "Redex Special" - Cooper Bristol - since acquired by Earl Davey Milne). Tom went on to build Auspers in the UK.
If your into historic racing follow this link to Vintage Racecar Magazine

---