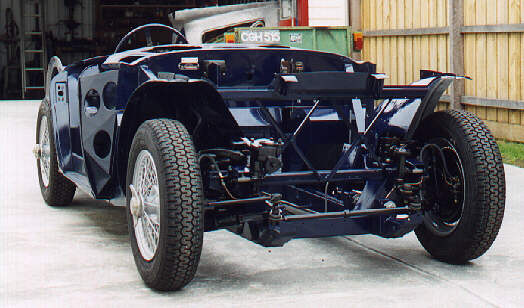 Finally on its wheels with steering and brakes, these photos were taken after her maiden voyage down the driveway.
Exiting stuff! I fabricated new brake lines using copper coated hydraulic tube, the wheel cylinders only required new seals to be fitted, however the master cylinder which was badly corroded, has been fitted with a stainless steel sleeve and new piston, also in stainless steel. The brake linings were still in almost new condition, and on advise from my supplier I decided not to replace them. New brake hoses have also been fitted. The car is sitting at normal ride hight due to spacers that I have installed under the shocker stop pads until the drive train is fitted.
---

The wheels were sandblasted, and I painted them with 2k silver. The brake drums which were originally silver are painted black, which I think highlights the wheels. The tyres are Michelin XZX 165x15.
---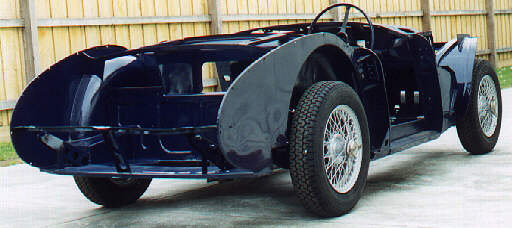 The hand brake is also installed, as well as the clutch and accelerator pedal, I have ordered a new cloth covered wiring loom, so next step is the engine and gearbox/overdrive unit.
---
Page 12
Home